Choosing the perfect holiday gift can be difficult, particularly when it comes to determining the appropriate Apple portable media player to give to your dearest and nearest. This year, however, it's the tiniest bit easier. And it is because Apple has done us all the favor of leaving last year's iPod lineup in place. If you liked the look of last year's iPod shuffle, iPod nano, iPod Classic, and iPod touch, you'll like them just as much this year as they've changed very little.
Which to purchase—either for yourself or as a gift—depends a lot on the money you have to spend and what you'd like that iPod to do. Do you want an iPod that plays music only—no video? You have exactly two choices (and only one of them has a display). Need an iPod that stores a large chunk of a massive iTunes library right there on the iPod? Apple offers one perfect iPod. How about an iPod that's equally at home playing games and sending email as it is playing music, podcasts, and movies? You have up to three choices (depending on how particular you are about the device actually bearing the "iPod" name). To help make those choices more clear, let's look at this (and last) year's lineup of Apple's portable media players.
iPod shuffle
Today's $49 4G iPod shuffle ( ) looks very similar to the 2G shuffle of yore but, unlike that earlier iPod model, if you care to you can navigate the device by holding down a VoiceOver button (or pressing the controller on the optional $29 Apple Earphones with Remote and Mic). Doing so causes the iPod to announce the name and artist of the currently playing track. Press and hold the VoiceOver or headphone controller button and the iPod lists all of its playlists.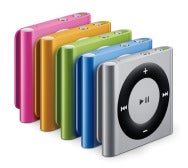 The nearly square 4G iPod shuffle is offered in a single 2GB capacity. You can fit approximately 500 4-minute songs encoded as 128-kbps AAC in that 2GB of flash storage. It's available in five colors—silver, blue, green, orange, and pink. Like shuffles before it, this one bears a clip, allowing you to securely attach the thing to your clothing, backpack, or purse. And, like the 2G iPod shuffle, it has no display but rather, on its face, Volume Up, Volume Down, Next/Fast-forward, Previous/Rewind, and Play/Pause buttons.
The mission of the iPod shuffle remains the same. It's Apple's least expensive iPod and holds over a day's-worth of music (again, with music encoded as 128-kbps AAC), making it a solid choice as a workout companion or a careless kid's first iPod. Although navigable through VoiceOver, there are far easier iPods to operate. And, of course, no display means no videos or extra features that require a display (contacts and calendars, for example).
Best for: Athletes (and wanna-be athletes); kids; those who like to press play and go about their business; anyone seeking a spare, kick-around iPod.
Not for: People looking for easy navigation of their music library; those wanting to carry lots of music; individuals desiring an iPod on which to watch videos.
iPod nano
In 2010 Apple changed the nano's shape, but, in a turnaround of tradition, the company removed features rather than added them. Specifically, 2009's Click Wheel fifth-generation (5G) iPod nano could play videos; sported a low-resolution video camera; and could display contacts, calendars, and notes. The 6G iPod nano ( ) has a smaller screen; a touch interface rather than Click Wheel; can't shoot or display video of any kind; and dispenses entirely with contacts, calendars, and notes. It does, however, include an FM radio capable of buffering 15 minutes of audio, just as did the 5G iPod nano, and it can display still images you sync to it. A software update issued in the fall of 2011 added a number of stylish clock faces to the nano for those who like to wear it as a watch. The iPod nano is now very much a music player and little else.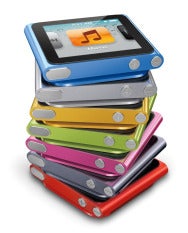 Available in 8GB ($129) and 16GB ($149) capacities and in seven colors (silver, gray, blue, green, orange, pink and Product Red) the 6G iPod nano is, in some ways, more like a display-bearing iPod shuffle than a successor to the 5G iPod nano. It earns this comparison due to its small size and lack of hardware play controls—you play and navigate through it via on-screen touch controls or with an optional headset that features an inline controller. And for some people—those who want a lightweight, more navigable, higher-capacity iPod for their workouts, for example—that's perfect. It's also a cute little thing.
Best for: Exercising iPod owners; older kids who can be trusted to not lose it; public transportation commuters; anyone who wants to carry a reasonable amount of music in a stylish package.
Not for: Individuals desiring an iPod on which to watch videos or keep contacts, calendars, and notes; those who find a touch interface isn't appropriate for every purpose.
iPod classic
We've taken to calling this the "death watch" iPod around the Macworld offices. As the one iPod that still holds a mechanical hard drive—and the model that hasn't seen an update in several years—we keep waiting for Apple to pull the plug on the thing. And yet, year after year, it lives on. And it does for a compelling reason—if you need a lot of storage (meaning over 100GB), the iPod classic is your only choice.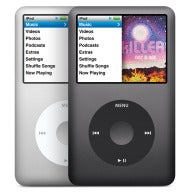 The $249 iPod classic ( ) is available in silver or black in a single 160GB capacity. It will carry 40,000 4-minute songs encoded at 128-kbps AAC, which works out to a little more than 111 days of continuous music. Additionally, it can play videos and show images on its 2.5-inch color display and hold contacts, calendars, and notes. Nothing new, nothing particularly flashy, just a whole lot of room to store all or the bulk of your media library.
Best for: People who want to take all (or a large portion) of their iTunes media libraries with them.
Not for: Those for whom capacity isn't as important as an iPod touch's feature set; the visually impaired and blind, who would find it very difficult to navigate this iPod's interface.
iPod touch
The fourth-generation (4G) iPod touch ( ) is the closest Apple has come to feature parity with the iPhone with its inclusion of front- and rear-facing cameras, FaceTime support, HD video recording, support for the mobile version of Apple's iMovie, an A4 processor, a Retina display, and a built-in microphone.
While the 4G iPod touch's and iPhone 4S's features are similar, they're not the same. Of course, the iPod touch doesn't support the iPhone's phone features—voice calling and text and media messaging. Nor does it include the Siri intelligent assistant feature. It also lacks the iPhone's GPS circuitry and can't transfer data over an EDGE or 3G network. And while, like the iPhone 4S, it has a rear-facing camera and a Retina display, the iPod touch's rear-facing camera is much lower resolution (.7 megapixels versus the iPhone 4S's 8 megapixels) and the Retina display is not nearly as readable off-angle as that of the iPhone's display. At the same time, it also doesn't require a two-year commitment with monthly charges.
The iPod touch comes in three capacities—8GB, 32GB, and 64GB—priced respectively at $199, $299, and $399. These models, in ascending order, hold 1750 128-kbps AAC-encoded songs or 10 hours of video, 7000 songs or 40 hours of video, and 14,000 songs or 80 hours of video. While the iPod touch may not match the capacity of the iPod classic, a 64GB iPod touch that can hold 40 two-hour movies is nothing to sneeze at.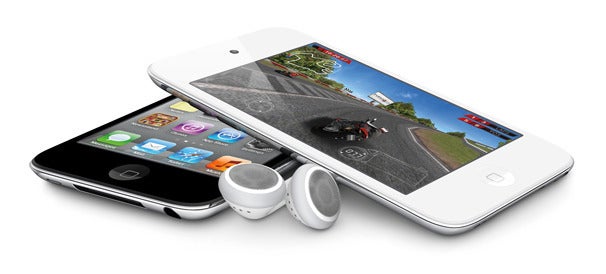 One of the things that makes the touch such a great iPod is the 3.5-inch (diagonal) touchscreen display. Because of its bright and fairly large display, this is the iPod you'll want to take to bed with you when you're in the mood for a late-night movie. Unlike with the iPod classic, this is an iPod you can stare at throughout a double-feature without squinting for hours afterwards.
All iPod touches support the creation of Genius playlists and Shake-to-Shuffle, operate as Internet appliances (for Web browsing, email, YouTube, iCloud syncing, and weather and stocks updates over Wi-Fi), include a built-in speaker good enough for FaceTime and game sounds, and let you purchase and download media from the iTunes Store, apps from the App Store, and ebooks from Apple's iBookstore. They also support iTunes Match. So, while you can store a very large music library on an iPod classic, if you've paid Apple $25 a year for iTunes Match, you can access that same media library over a Wi-Fi connection. And even if you haven't ponied up for iTunes Match, with a Wi-Fi connection you can redownload purchased music, apps, TV shows, and ebooks you've purchased from Apple's online stores.
Access to these stores and iCloud media is one of the primary attractions of the iPod touch. With iTunes Store access, you can acquire media on the go (provided the place you go has Wi-Fi). This is highly convenient when you're sitting in an airport between flights and wish to download an album, TV episode, or movie—if you're sure you're connected to a very fast Wi-Fi network—for the next leg of your journey. Just as convenient is grabbing a free or low-cost game from the App Store that helps you while away the hours in coach. And if you need something to read, the iBookstore and the iPod touch's Retina display make it easy to do.
Best for: Those who want to enjoy most of the advantages of add-on applications, the iTunes Store, the iBookstore, Wi-Fi access to the Internet (and all that comes with it, including iTunes Match), an always-with-you still and video camera, FaceTime, and portable video, but don't need a phone.
Not for: Those looking for an exercise-only iPod—it's a little bulky and, with its glass screen, you don't want to drop it on a locker room's tile floor or the jogging trail. People seeking the best retina display and rear-facing camera Apple offers in a portable device.
The other guys
Although this is a buying guide for iPods, it's possible you or your lucky gift-recipient-to-be might want another Apple device that can also act as an iPod—specifically, an iPhone or iPad. So in the interest of no device left behind, here's a look at your other Apple options.
iPhone 4S In the context of an iPod shoppers guide, this is one of the rare times when you get to discuss the iPhone while downplaying its phone functionality—what it brings to the table as an iPod. And the answer to that lies very much in areas where the iPod touch either entirely or inadequately fails to deliver.
Again, the iPhone 4S ( )—available in black or white and in 16GB ($199), 32GB ($299), and 64GB ($399) capacities—has a better rear-facing camera and Retina display than the touch. Its EDGE and 3G connectivity mean not only that you can make calls from anywhere its carrier deigns to allow, but also access the Internet. GPS circuitry lets you know where you are at all times (and the Compass app tells you which direction you're facing, although maybe not which way the wind is blowing). It has a far better speaker than the touch. And, via Siri, you can command it to do your bidding.
That means that, as a media player, you have the opportunity to access streaming media (from Netflix, Pandora, Last.fm, Rhapsody, Spotify, Rdio, and Mog, for example) even when out of reach of an accessible Wi-Fi network. It also expands your wireless options for downloading music, podcasts, books, and apps from Apple's emporiums. And, like the iPod touch and iPad, it supports iTunes Match, allowing you access to your media in the cloud.
But, as ever, the iPhone is a tricky holiday gift. When you give someone an iPhone, you saddle them with a two-year commitment. If he or she is an existing customer of a particular carrier—AT&T, Verizon, or Sprint—that's not too terrible. But if the object of your holiday affection needs to switch carriers in order to have an iPhone, your gift becomes a burden.
If you're determined to purchase an iPhone 4S as a gift, you'll find that it's easier to do than it once was. In-store purchase is no longer required. You can now have an iPhone delivered to you and activate it online. Or you can purchase an iPhone Gift Card from the online Apple Store. Although the right and proper thing to do would be to fill the card with the purchase price of a new iPhone, you're welcome to choose any amount you like from $25 to $2500.
iPad 2 The iPad is Apple's best way to enjoy music and video in a portable package. It is because of its large 9.7-inch, 1024-by-768-pixel touchscreen, decent internal speaker, and, on some models, the option to use a 3G network.
The iPad 2 ( ) is available in two models—the iPad 2 with Wi-Fi and the iPad 2 with Wi-Fi + 3G. It's available in black or white. Each comes in three capacities—16GB, 32GB, and 64GB. The Wi-Fi-only models cost $499, $599, and $699, respectively. And the Wi-Fi + 3G models, which uses AT&T or Verizon's network, add $130 to each price—so $629, $729, and $829. AT&T offers two month-to-month data plans for the 3G model—250MB of data for $15 a month or 2GB of data for $25 a month. Verizon's plans are priced at $20 for 1GB of data, $35 for 3GB, $50 for 5GB, and $80 for 10GB.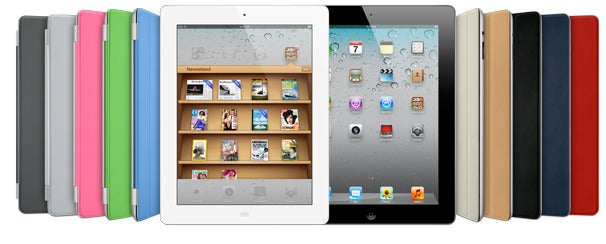 The iPad's large display means the best video viewing experience on a portable iOS device. Whether you're watching video stored on the iPad or streamed via an application such as Netflix or Hulu Plus, you get a picture that you needn't squint to see, and one large enough that you and a friend can watch together. (Yes, the speaker is good and loud enough that you usually don't need headphones or an external speaker for such casual viewing.)
It's also a quite fine ebook reader. Sweetening the pot is the number of free ebooks available through Apple's iBookstore and from Project Gutenberg. And because the iBooks app supports PDF files, you can load your iPad with such files for work and pleasure. And, of course, there are the countless apps you can get from Apple's App Store.
32GB iPod touch (fourth generation, late 2010)
64GB iPod Touch (fourth generation, late 2010)
Price When Reviewed:
$279
16GB iPod nano (sixth generation, late 2010)