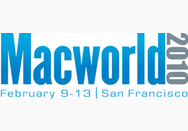 Maybe Apple isn't coming to Macworld 2010, but that just means it won't be hogging the spotlight. On Tuesday, IDG World Expo announced that filmmaker and Mac fan Kevin Smith would be giving one of the feature presentations at the February 2010 event. Snooch to the booch, indeed.
If you aren't familiar with Smith's work, then you have been sorely deprived. His debut feature, 1994's Clerks, is a classic, one that he followed up with films like Mallrats, Chasing Amy, Dogma, and more. I have to admit a soft spot for much of his work, especially the short-lived Clerks animated series.
Smith's session will be a Q&A with attendees; it's scheduled for Thursday, February 11 at 2PM PT. This isn't his first trip to Macworld, either; he made a similar appearance at Macworld Expo 2007. Macworld 2010 head honcho Paul Kent waxed enthusiastic about Smith's appearance, saying in a statement, "Kevin's dynamic and informative style, commitment to his community of fans and creative use of Mac technology exemplify what Macworld is all about."
I got to see Smith live when I was in college, an event that was immortalized (along with sessions from a few other schools) in the An Evening with Kevin Smith DVD, and I'll tell you this: attendees are in for a treat. As with other feature presentations by the likes of New York Times tech columnist David Pogue and pocdcaster Leo LaPorte, the Smith session is open to all Macworld attendees.
Macworld 2010 takes place from February 9-13 at the Moscone Center in San Francisco, CA. Registration for the event is now open online at the Macworld 2010 Website.
IDG World Expo and Macworld owner Mac Publishing LLC are both owned by International Data Group (IDG).