Last August I wrote about the changing landscape of free lyrics. As detailed in that story, LyricWiki offered an API that allowed applications (including iPhone apps) to access and download ad-free lyrics, free of charge. However, major music publishers demanded that programatic access (read: API) to LyricWiki be shut off, and it was. According to the Ecommerce Journal, this demand was followed by a lawsuit initiated by three members of the National Music Publishers Association—Peermusic, Warner/Chappell, and BugMusic filed suit against LiveUniverse and Motive Force, the entity behind LyricWiki.
Three months later and lyrics are starting to reappear in licensed form. For example, LyricWiki has shut down under its former ownership and is now run by Wikia, which has a licensing deal with Gracenote for legally distributing lyrics. In the process the service has lost some functionality. The API, for example, is still dead in the water. And you're unable to highlight, cut, copy, or paste content from lyrics pages.
Lyrics are now also available as part of Apple's iTunes LPs. Regrettably, the lyrics found in iTunes LPs aren't embedded in tracks and therefore don't appear on iPods or iPhones that contain the tracks.
The loss of the LyricWiki API also spelled trouble for iPhone applications that relied on it. Browse reviews for many lyrics apps and you'll find numerous complaints of lost functionality. For example, I purchased SchroederDev's Lyrics+ and was quite pleased with its ability to find lyrics for songs playing on my iPhone. Yet two weeks after I purchased it, nothing.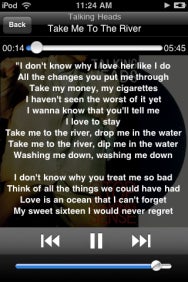 Lyrics+ is back and functional. Its developer, Brian Schroeder, was kind enough to fill me in on the details of its resurrection. The story goes like this:
In early August all apps based on the LyricWiki API ceased to function correctly because of the shutdown of the API. Schroeder pulled the application from the App Store as quickly as he could. During the following one- to two months, Schroeder sought ways to obtain licensed lyrics. He found two sources— LyricFind and Gracenote. He settled on LyricFind because of its extensive database and more favorable terms.
Development took another couple of weeks as Schroeder learned the new API and waited for LyricFind to make changes to the API. The updated version of Lyrics+ was submitted to Apple in early October and three weeks later, released.
In the same vein as Wikia, lyrics displayed by Lyrics+ can't be copied nor are they available outside the Lyrics+ app. For example, on my iPod touch I'm able to view the lyrics for The Talking Heads' version of "Take Me To The River" as well as play the song within Lyrics+. But if I call up that same track in the iPod's Music app, the lyrics are nowhere to be found.
But it works, and works for most of the popular tracks on my iPod. And as with the return of lyrics to the Web, that's music to my ears.