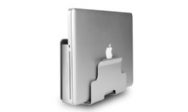 Ever wish your laptop could stand up? The NX Stand from Macessity lets you prop up your closed laptop in a cushioned slot, freeing up more real estate on your actual desktop.
The steel enclosure matches the look of the MacBook Pro line and includes a four-port, powered USB hub as well as space for an external hard drive. (Macessity lists four hard drive models as compatible with the NX Stand, but others may fit, depending on their size.) Obviously, the closed laptop set-up requires an external display, too, unless you have some sort of superpower you'd like to tell us about.
The NX Stand accommodates pretty much any Apple laptop, including the 13-inch MacBook, and the 13-inch, 15-inch, and 17-inch MacBook Pros. It provides full access to all of the notebook's ports, as well as providing a vent for hot air to escape, so your MacBook doesn't cook itself.
For the particularly accident-prone among you, be aware that you'll probably still find a way to spill your cup of joe on your MacBook.
The NX Stand is available from Macessity for $60.