In late September I was in Denver, attending the iDev 360 iPhone developer's conference. I was sitting in on a game-development seminar, which was actually fascinating, since the speaker was a successful independent game developer, and he was pretty open about sharing some (but not all) of his secrets.
I left that room with something like eight apps on my iPhone that hadn't been there when I entered. Because this developer kept rattling off examples of amazingly good games (or so he said) that I had never heard of. (A prime example about how hard it is to actually sift through the App Store to find the good stuff).
One of those games was Orbital, a $1 app from Bitforge. And what a find it was. This is a casual game with a retro flair, some serious strategy, and great re-playability. I guess you could say it's a game developer's kind of game. That's a compliment.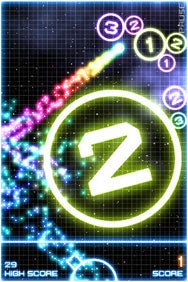 Orbital's gameplay is simple, especially when it comes to the controls. All you can do is tap your finger at the right time. That's it. At the bottom of the screen, a cannon sweeps through a 180-degree path, left to right, then right to left, back and forth. This cannon shoots pellets that bounce off the sides of the screen before coming to rest. Once the pellet comes to rest, it becomes a bubble that keeps expanding until it touches another bubble or the edge of the screen.
Each bubble has a number inside of it, indicating the number of times it needs to be hit by a pellet before it pops. The number starts at three, meaning you've got to whack a bubble three times before it pops. Of course, each pellet that you use to whack a bubble also creates its own bubbles. They start to stack up. The game ends when one of your pellets bounces back toward you and crosses a line that runs horizontally across the screen, just above your cannon.
Orbital has two gameplay modes, Pure and Gravity. In Pure mode, it's all about geometry—every pellet moves in a straight line. Gravity mode, which is a bit easier, gives each bubble its own gravitational pull. The end result is that you can fire a pellet just off the edge of a big bubble and watch as its arc curves around that bubble and strikes something on the far side.
Unlike some games—I'm looking at you, Peggle and Luxor—that generate scores in the millions, Orbital is delightfully stingy with its points. You get a point for each bubble you pop. I've been playing this game for more than a month now, and my high scores in its two modes are 13 and 9. Even though there's no time pressure—no aliens appear and shoot at you, and the bubbles will sit there forever, unchanging, until you fire a shot—it's a remarkably challenging game.
I don't know how I missed Orbital when it first came out, but I'm rectifying that failure right now. Orbital is easy to learn, but hard to master. You can play a game in minutes, especially when you're not particularly good at it. It's been on my home screen for more than a month now, and I don't anticipate it leaving there anytime soon.