At a Glance
Expert's Rating
Pros
Easy to use
Very good picture quality
Cons
Poorly implemented picture-in-picture
Our Verdict
Samsung's LN40B650 produces great-looking on-screen images, and its Internet and home-networking capabilities will keep you entertained when there's nothing good on TV. You can find cheaper 40-inch HDTVs, but the image quality and the extras make the LN40B650 worth its $1200 price.
The LN40B650 is, as of this review, tops in overall picture quality compared with other TVs we've tested. It earned a score of Very Good. The set displays sharp and crisp images, and according to one judge in our testing panel, it looked "very pleasing overall."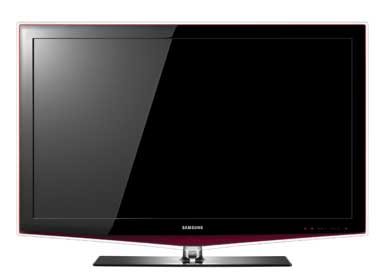 This TV's foremost weakness was its upconverting of 480p DVD movies to 1080p. In this area, most jurors put it slightly lower than its competition; two judges noted mediocre-to-poor contrast in scenes from the Phanton of the Opera DVD.
We had a few other complaints. Several of us saw digital artifacts (slight moiré patterns in a brick wall and a skyscraper) in moving camera shots in our Mission: Impossible III and The Dark Knight Blu-ray tests. You probably won't notice such effects if you're not looking for them, but if you're picky enough they could occasionally mar your viewing experience. In addition, one judge found the colors in a 720p Wheel of Fortune broadcast clip "a bit dull, but good overall." Nevertheless, in general we loved the way the LN40B650 looked.
The digital artifacts around fast-moving objects surprised us, in part because this model did quite well on our motion benchmark tests, which stress a television's ability to handle moving images far more than anything you're likely to see in a movie. Actual, live-action, 3D camera movements can sometimes cause artifacting whereas test patterns do not, which is why we use both.
As for the LN40B650's built-in speakers, I noticed very little distortion, even with the volume turned up all the way. Lowering the volume to a comfortable level eliminated the distortion entirely. The speakers were powerful enough to give a sudden, loud organ blast from the Phantom of the Opera Blu-ray Disc its intended effect. The simulated surround works if you enhance it with your imagination, but it isn't exceptional—plenty of other HDTVs do a better job. Real surround requires a separate amplifier, at least five satellite speakers, and a subwoofer.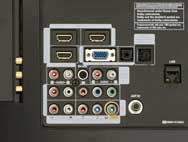 The LN40B650 makes good use of its ethernet port. Once you've connected the TV to your router, you can enjoy Twitter, YouTube, an assortment of Yahoo widgets (Video, News, Sports, Flickr, and so on), and games such as sudoku. The YouTube interface is intelligently designed, and it defaults to playing videos in a smallish frame—a fortunate choice, since YouTube filling a 40-inch screen is not a pretty sight. Unfortunately, the set lacks support for Netflix (though Samsung recently rolled out support for Amazon's and Blockbuster's streaming services).
In addition to online content, the LN40B650's ethernet connection lets you play music, photos, and videos off of any DLNA server, such as Windows Media Player 11 or 12, or the server software (Windows only) that comes bundled with the TV. You can also add background music to your photo slideshows.
If you don't have an ethernet connection, you can put your photos, music, and videos onto a flash drive and plug that into the LN40B650's USB port. But when playing off a USB device, the media player supports only MP3 audio files; over the network, the LN40B650 can play any format that the DLNA server supports (such as .wma if you're using Windows Media Player).
This is a remarkably easy television to set up. All the input connections are way over near the edge, making it easy to plug in a DVR or Blu-ray player, with some connectors on the side for extremely quick access. A first-time wizard helps you configure the TV properly.
It's equally easy to use, too. The main menu is intuitive, attractive, and readable, with explanations of the various options. (Most of these explanations are useful, but you'll occasionally find some that may require consulting the manual.) A Tools button on the remote brings up a less-extensive menu of those options that you're likely to change on a regular basis. And when you want to change inputs (for instance, to switch from your Blu-ray player to your DVR), the LN40B650 makes this common task simple: In its on-screen list of all inputs, it places the inputs you actually use first.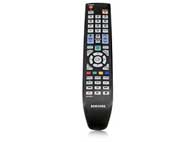 The remote control makes this HDTV even more pleasant to use. It's quite large, with well-placed and easy-to-press buttons. You could easily find the main buttons in the dark, but you don't have to: Press the always-glowing backlight button, and all the others illuminate. Extra buttons for Internet access and the media player put those two features literally at your fingertips.
The remote lacks a picture-in-picture button, despite the presence of a PIP feature in the LN40B650. PIP is limited in other ways, as well. The LN40B650's PIP works only with video from the TV's tuner in one window and an external source (such as a DVD player) in the other, and you have to be watching the external source to bring up the feature.
The LN40B650's exterior is well designed. It's pleasing to look at, with a soft curve at the bottom center that points down to the transparent pedestal. The usual black frame is trimmed with a subtle red (what Samsung calls its "Touch of Color" design).
Samsung LN40B650
| | |
| --- | --- |
| Performance | Very Good |
| Features | Superior |
| Design | Superior |
Scale = Superior, Very Good, Good, Fair, Poor
On top of that, the set is energy efficient: This Energy Star 3.0-compliant HDTV burns about 104 watts when in use, according to our labs. That's good for a 40-inch HDTV, but not exceptional. When turned off, however, it uses so little energy that it didn't even register on our equipment.
Macworld's buying advice
The LN40B650 serves up impressive picture quality with strong Internet connectivity, and makes everything easy to use. This model is an excellent HDTV for anyone seeking an Internet-connected model in a more compact design.
[Lincoln Spector is a contributing editor for PC World.]