At a Glance
Expert's Rating
Cons
Only 720p resolution
Underpowered sound
Our Verdict
Panasonic's TC-P42X1 42-inch plasma HDTV set can accept a 1080p input, but it downscales the image to its native 720p resolution. This was the likely cause of the set's biggest problem in our tests: a noticeable "screen-door" effect.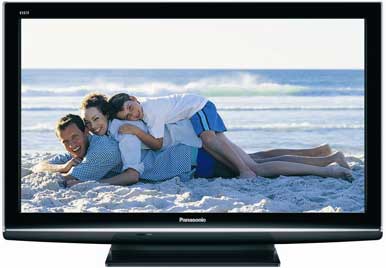 Every digital screen is made of a grid of squares—namely, pixels. Ordinarily this grid is too small to notice when you're watching the TV from the recommended viewing distance. If the grid is large enough to be noticeable, however, the result is a bit like watching a movie or TV show through a screen door (though not as severe, of course). On several of our tests, the TC-P42X1 had a noticeable screen-door effect. It looked the worst against light images and white backgrounds, but I saw it even in a dark scene from our DVD of The Phantom of the Opera. This wasn't exclusively the result of downscaling the image either: We saw the effect even when the set was upscaling from 480p to 720p.
In addition, the TC-P42X1 suffered from a bad overscan that cropped all four edges of the picture. Unfortunately, the unit has no overscan setting that can be switched off to alleviate this issue.
The TC-P42X1 had some color issues as well. In our lab tests, it displayed oversaturated hues, images that looked less crisp than they should have, and greenish skin tones. Normally, fiddling with a set's controls can help with color problems, but we found that the TC-P42X1 lacked the controls necessary to get the colors just right.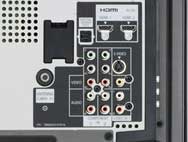 Despite the screen-door effect and overscan issues, the TC-P42X1 did a reasonably good job at rendering video. As you would expect from a plasma set, the TC-P42X1 has an excellent viewing angle: You can sit way over to the side and still see the image's full brightness and color. And while the viewing experience wasn't entirely free of halos, moiré patterns, and other digital artifacts, these problems weren't as common on the TC-P42X1 as they were on most of the LCDs we tested it against. That, too, could be one of the advantages of a plasma screen, though it could also be the result of a superior image processor.
When I turned the volume all the way up, the TC-P42X1's speakers were pretty loud, but not uncomfortably so—a sign that they're underpowered. That said, they sounded very good at that volume, with only slight distortion, a wide dynamic range, and excellent virtual surround in comparison with other TVs. Truly excellent surround sound requires a separate audio system.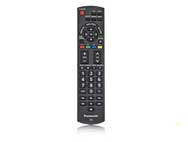 Panasonic has made the TC-P42X1 a reasonably easy TV to set up. The input connectors (where you would plug in a DVD player or DVR) are well placed and easy to access. The main on-screen menu is readable and intuitive for the most part, but it has its quirks. For example, if you select a picture-quality setting such as Brightness or Contrast and press OK, nothing happens; you have to press the left or right arrow for the menu to respond. The menus also lack on-screen explanations, forcing you to look up options you don't understand in the completely adequate manual. A Sub Menu button gives you quick one-button access to commonly changed options, such as favorite channels.
The remote control isn't bad, but it could be a lot better. The channel and volume controls are big and nicely placed. Pressing the circle of arrow buttons takes a bit of a thumb stretch—and worse, when you're reaching for the arrows, it's easy to hit other buttons accidentally. The remote is neither backlit nor programmable.
The TC-P42X1 has an SD Card slot, which you can use for viewing photos. The slideshow function is limited, however, as it doesn't support background music or transition options to complement the show. You can't play music or videos off an SD Card, either, and the set offers no support for USB storage devices.
Panasonic Viera TC-P42X1
| | |
| --- | --- |
| Performance | Good |
| Features | Good |
| Design | Good |
Scale = Superior, Very Good, Good, Fair, Poor
Plasma sets are often energy hogs, which explains why this Energy Star 3.0-compliant HDTV burns about 144 watts when in use, according to our lab tests. (By comparison, several 42-inch LCD TVs we tested use less than 105 watts.) On the other hand, it uses only about a tenth of a watt when turned "off." Other power-saving options turn the TC-P42X1 off if it has received no signal for 10 minutes, or if it has detected no sign of human activity (for instance, no presses on the remote) for 3 hours.
Macworld's buying advice
The TC-P42X1 is in no way an exceptional HDTV. But the affordable price makes it a tempting one.
[Lincoln Spector is a contributing editor for PC World.]