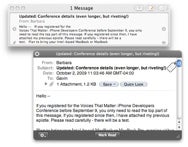 Indev software has released MiniMail 2.0, a Snow Leopard-compatible upgrade to the software the Canadian developer acquired from Olive Toast Software in October. MiniMail changes the zoom behavior of the main message viewer in Mail, creating a small viewer window that shows only new messages. Tuck it away in the corner of the screen and you get a functional Mail window which doubles as a standing Growl-style notification.
MiniMail 2.0 adds the ability to have multiple message windows. You can choose in the preferences to have a single mini-viewer, which monitors new messages in a selected set of mailboxes, or you can create multiple mini-viewers by choosing the mailboxes you want to monitor in a regular message window, then clicking the zoom button. Mini-viewers can be set to remember their status and positions upon relaunch, or can be reset when quitting Mail. Finally, you can set your mini-viewers to float above other windows, so none of your pesky work will get in the way of important incoming email.
I've been beta testing MiniMail, and while I can say that sometimes a floating message window is the last thing I need to enhance my productivity (it's worse than Twitter!), it's a nifty feature to have, especially when incoming messages may be especially urgent. Minimail costs $13 and has a 30-day trial. Existing owners of Indev's Mail Act-On and MailTags get special pricing of $9 through December 31, and everyone is offered a 20 percent break on all Indev products through November 13 as part of the One Finger Discount.