I can't think of too many iPhone apps I can operate blind. And I'm not certain SoGeeky Software would approve of its app being used quite that way. After all, SoGeeky's FlickTunes is designed so you can control the music on your iPhone or iPod touch without taking your eyes off the road, whether you're driving, biking or jogging—in other words, with your eyes wide open.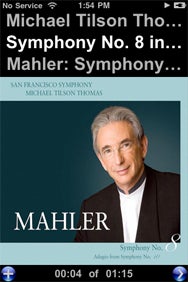 But I wanted to change things up a little, maybe add a little danger into an otherwise harmless and risk-free occupation. So I tested FlickTunes blindfolded.
No, I wasn't driving, biking, or jogging at the time. But it was still sort of risky. I could have spilled coffee on my iPhone or been attacked by wild boars. Or… something.
It was a short-lived attempt, anyway. Truth is, you cannot work FlickTunes completely blind. First, you need to see the icon on the home screen in order to launch the app. Then you need to add from your device's music library the songs or playlist you want to hear. And you need to add songs every time you launch the app—it will not retain your playlists. That's impossible to do solely by ear. The app will also display track and artist information in large type, as well as the album cover, so drivers could look at the screen with a quick glance. A button at the bottom right hand of the screen will, if tapped, display more detailed iTunes information, including artist, composer, title, album name, star-rating, and number of times played.
But once the music starts, FlickTunes makes use of your handheld's whole touchscreen and doesn't require you to look at it even once. FlickTunes works simply and economically. You flick right to left, as you would turn a page, to skip a song. You flick right to go back. Flicking up or down will play or pause a song. You can also change the app's settings to play and pause with a simple tap of the screen. A two-finger flick to the left or the right will advance or reverse a track by 30 seconds. And a two-finger swipe up or down will raise or lower your device's volume.
Blindfolded or not, FlickTunes' controls take some getting used to. Advancing a track is by far the easiest action, and I would wager it's the most common, with pausing and playing tying for second place. The app can be a bit more stubborn backing up. You need to flick with a purpose, neither too lightly nor too harshly.
By far the most troublesome feature, however, is the volume control. The first time I tried the two-finger swipe downward, I muted the device. The second time, I nearly blew my eardrums out. It's extremely sensitive. Touch the screen with two fingers and move up and down sloooooowly. (The recent 1.3 update to the app promises to resolve what the developer describes as "some quirkiness" involving the volume controls.) Once you get accustomed to flicking and dragging, however, using FlickTunes becomes second nature.
The settings for FlickTunes are split up. You can set the app to shuffle and repeat songs on the Song Detail page within the app, but the app's main settings are located under the device's global settings, outside the app. There you can turn the auto-lock on and off, enable landscape viewing, and customize FlickTunes's playback controls. There is also a "lefty mode" for users who can't tell their left from their right and try to flick left-to-right thinking that's the correct way to advance tracks.
Also: FlickTunes is not completely compatible with the latest version of iTunes. In particular, the app will not work with iTunes Genius mixes. The developer is aware of the issue, and notes that the workaround is to simply start the Genius mix in iTunes and switch to FlickTunes. It's a small flaw that doesn't detract from the app's overall utility and functionality.
Bottom line: FlickTunes is the ideal music manager for for drivers, joggers and multi-taskers. Blindfold optional.
[Ben Boychuk is a columnist and freelance writer in Rialto, Calif. Feel free to e-mail him.]