No matter how much you enjoy taking digital photos and sharing them electronically, there's something special about photos that you hold in your hand. These days, it's popular to let someone else make prints for you—be it the neighborhood camera store, Wal-Mart, or an online photo service like Shutterfly. But there are advantages to printing your photos. For one thing, you don't have to wait for prints to arrive in the mail. And if a print doesn't come out the way you'd like, you can adjust the image and print again without having to send it off to someone else. (If you're seeing strange lines or bad colors, see our printer troubleshooting guide.)
Here are some tips for getting the best results from your inkjet printer.
Start with enough pixels
This probably isn't a big concern for photos you take with your digital camera; most modern digital cameras offer more than enough resolution to make prints of any size you'd want. But if you get an image file from someone else—especially through e-mail—you should check the resolution before you print it. Often, shared photos are resized to take up less space, and that can result in pixilated prints.
If you're ordering prints online from iPhoto, the program will let you know if there aren't enough pixels for a smooth print. But you won't get the same heads-up when printing to your inkjet printer, so you'll want to double check the image size. First, decide what print size you want. Then multiply the longest side by 200. The resulting number represents the minimus number of pixels the longest side of your image needs to have. If you're trying to make an 8-by-10-inch print, for example, the longest side of the picture should be 2000 pixels or more. If it's not, then you should consider printing it at a smaller size.
To determine the size for photos not in iPhoto, open the folder that contains the photo and press Command-I to open a Get Info window. You'll see the pixel dimensions listed under the More Info heading.
Crop to Size
The next step is to crop the image to the correct aspect ratio. Every common print size—such as 4 by 6, 5 by 7, and 8 by 10—has slightly different proportions. And they're all different from the standard digital photo aspect ratio. So if you don't crop your photo ahead of time, you might end up printing a different part of the image than you expected.
If you're in iPhoto, you can use the editing pane's Crop tool. But keep in mind that changes you make here are reflected everywhere the image appears—including books, calendars, prints, and smart albums. A better option is to use the resizing tool included in iPhoto's Print dialog box.
Select the photo from your library and choose File -> Print. Choose a print template (use Standard for basic borderless prints), and then make the appropriate selections from the Paper Size and Print Size menus. This tells iPhoto what you're trying to accomplish so it uses the correct aspect ratio. Next, click Customize to adjust how your image is cropped. In the resulting screen, click once on your image and use the zoom slider to determine how much of the image appears and the hand tool to reposition the photo within the frame.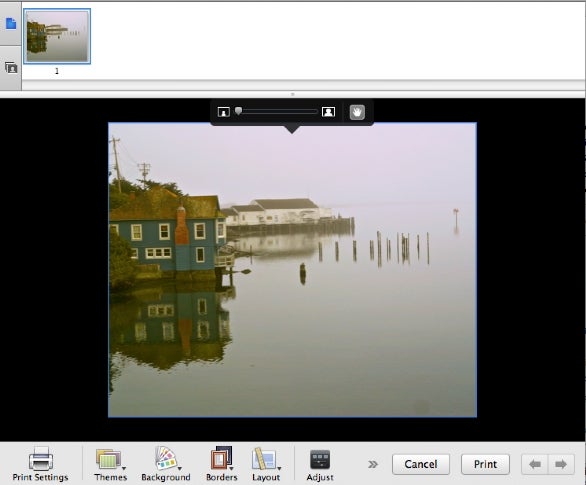 Sharpen the Image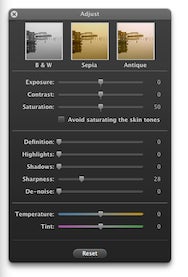 Most of the time, digital photos will benefit from a small amount of sharpening before you print them. If your digital camera has a setting to automatically sharpen your images when they're taken, you might want to experiment with that and see if you like the effect. In general, many cameras take slightly better pictures with the sharpening set to the lowest level other than zero, such as +1.
If your camera doesn't have its own sharpening filter, or if you choose not to use it, then apply a small amount of sharpening before you start printing. Again, while you can do this within iPhoto's editing pane, your changes will apply to every instance of that photo. If that's not what you want, you can also perform this task right before printing. From the Customize pane of the Print window, click once of the photo and then click the Adjust button. Adjust the Sharpness slider to get the effect you want, and then choose Print. Your original image will remain untouched.
Keep Your Printer Happy
Now you're ready to print. You'll typically get the most reliable results by using the paper and ink recommended by your printer's manufacturer. If you have an Epson printer, for instance, use Epson paper and Epson ink. The combination might cost a bit more, but all those components are engineered to work together and the results are noticeably better than what you get from less expensive alternatives.
That said, there are a number of high-quality third-paper photo papers that offer interesting textures and professional finishes, if you're willing to experiment (see our roundup of unusual papers for some of our favorites). You'll likely spend a bit more money and time working with these papers, but the results can be worth it.
Be sure to set the printer settings to reflect the kind of paper you've loaded in your printer, and, if you have a choice, set the printer for quality, not print speed.