At a Glance
Expert's Rating
Pros
Massive storage capacity, good manual control placement, optical viewfinder
Cons
Tricky user interface, heavy, short battery life, unremarkable HD video performance
Our Verdict
Sony's Handycam HDR-XR520V is a monster when it comes to storage capacity, with a 240GB hard drive. While this makes it great for extended trips away (since you won't need to keep downloading your footage), it does have an impact on the camcorder's weight and battery life (about an hour).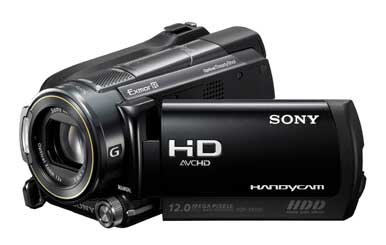 The HDR-XR520V is almost identical to the slimmer, lighter, more affordable HDR-CX520V ( ) in terms of specifications. It has the same Exmor R image sensor with an effective video resolution of 6.6 megapixels, but with a relatively low maximum HD image quality of 1920-by-1,080 with a data rate of 16Mbps. Like the HDR-CX520V, that effectively ensures it doesn't scale the heights of its rivals. And, of course, it has a similarly tricky touchscreen user interface to the HDR-CX520V.
In the hand, the HDR-XR520V looks and feels pretty portly, too, although its bulk makes it easy to hold. Strangely, its zoom toggle button is narrower and trickier to access comfortably than the HDR-CX520V, and you'll find your fingers and thumbs contorting into all kinds of weird shapes to switch shooting modes or snap stills.
One good thing about the extra bulk is that Sony has found room for a control dial by the lens, which lets you take manual control of settings such as focus, white balance and exposure. It's also one of the only camcorders here that includes an electronic viewfinder. However, the bulkier body hasn't made more room for a component video output, which could be problematic if you own a TV that doesn't have HDMI.
The picture quality delivered by the HDR-XR520V is similar to that of its sibling; the detail is good rather than remarkable, but colours and skins tones are rendered accurately. We found its SteadyShot optical image stabiliser to be slightly better than average, though the geotag function proved redundant because we couldn't get a signal lock, and anyway, such a feature isn't readily supported in iMovie '09.
The HDR-XR520V is relatively slow to start up. Accessing features in the touchscreen menu system also enforces a short wait while the hard drive does its thing.
Macworld's buying advice
The HDR-XR520V is a solid HD camcorder, with lots of storage, and good manual controls. But the image quality is unremarkable—it's fine, but there are other camcorders that produce better-looking movies.
[ Rob Mead is a freelance journalist.]