The 1990s saw the video game market flooded with personalities desperate for the attention of gamers, as developers tried to create their very own Sonic and Mario. And that's why we encountered things like a superhero that flings boogers, a wisecracking bobcat, and many other horrible characters best consigned to the dustbin of history.
And then there was Earthworm Jim, a normal earthworm with a nearly indestructible suit, a plasma gun, and a penchant for cow launching. The surrealist platformer first launched on the Sega Genesis nearly 12 years ago, but Gameloft has resurrected the lovable Earthworm for a port to the iPhone. Groovy!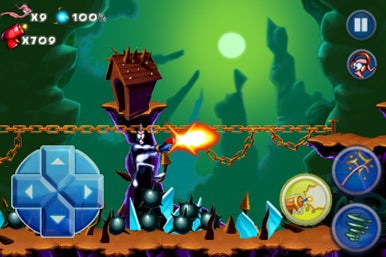 How weird is it, really? Well, one boss is named Professor Monkey-for-a-Head. Then there's the level that takes place in an intestinal track. Oh, and don't forget that a core gameplay element is using Jim's head like a whip to swing to hard-to-reach places.
Earthworm Jim is more than just a platformer, as Jim is almost always armed with a plasma gun that can easily carve up nearly any foe, from malicious crows to metallic crustaceans. In Jim's adventures, he confronts a colorful cast of characters—everything from an obnoxious goldfish to an evil cat that employs lawyers and other demons on his planet of "Heck."
Gameloft has beautifully preserved the art and graphics from the Sega version—in fact, they look much better on the iPhone. The details and shadows are particularly impressive, especially considering the era the game originally came from.
While the graphics are cartoony and the character is ridiculous, the difficulty is deadly serious. By the fifth level, you'll wish that the game had easier modes. There are several bottlenecks in the gameplay that will frustrate players and cause them to throw their iPhone to the ground in agony. The underwater orb level requires careful navigation skills while the Peter Puppy level requires you to not only avoid obstacles, but ensure your homicidal pet does as well. Then there's the last level that requires superhuman worm-whipping ability. The bosses vary from cakewalks (Bob the Goldfish) to a brutal bungee jumping showdown against Major Mucus.
The major challenge with porting such a popular game from yesteryear to the modern iPhone market is that some things may get lost in translation. Earthworm Jim's shtick was pretty original back in the '90s, but may appear clichéd or bizarre to modern audiences. I think many of the jokes hold up, but moments like when Jim must defeat a boss, the screen flashes "Finish Him"—a reference that may be lost on modern audiences but still strike a cord with those in tune with early '90s pop culture.
The controls are fine about 90 percent of the time. The directional pad on the touchscreen is a fine substitute for the Sega controller, and the developers at Gameloft wisely chose to use the accelerometer motion sensor to control Jim during his asteroid race levels. When he crashes into an asteroid, the entire device shakes.
The game's save system will frustrate some players. You can access any level you've unlocked through playing, but when you play through a stage, you'll start at whatever checkpoint you previously touched. Checkpoint save systems have their critics and defenders, but their infrequency does add a level of difficulty to the game. When you exit the game or lose all your lives, however, you'll likely have to begin the mission from its start—a frustrating endeavor after several tries. Having more than one save slot would also do wonders to increase the flexibility of gameplay.
Earthworm Jim is a challenging, original, surreal journey that should take you several hours to grind through. The strange journey has moments of genuine levity and some really clever design concepts, ensuring that a new generation of gamers can enjoy this classic title.
[Chris Holt is an assistant editor for Macworld.]