At a Glance
Expert's Rating
Pros
Good image quality
Web applications show potential
Automatic duplexer is standard
Cons
Web and touchscreen features have a few hiccups
Print apps has limited functionality
Our Verdict
HP's Photosmart Premium TouchSmart Web All-in-One Printer is a color inkjet multifunction printer with one truly new feature: the ability to access Web-based applications for viewing and printing items on the machine. It's a cool concept, but it's not quite polished: The initial apps appear tantalizing, but have some frustrating limitations.
As a traditional MFP, the TouchSmart performed competently in our tests. Using default settings, it printed plain text and graphics at better-than-average speeds of 8 pages per minute and 3.7 ppm, respectively. (HP's specs of 33 ppm for text and 32 ppm for graphics were derived from draft mode.) Print quality was fairly smooth and realistic, just a little grainy on plain paper.
When we printed a one-page Word document wirelessly (the printer has support for 802.11b, g, and n Wi-Fi) and through a USB connection with our Mac, the TouchSmart took about 20 seconds to complete the task though either connection. A 10-page Word document took on average 1 minute and 17 seconds to print, and again the times were consistent over both the wired and wireless connections. There was a noticeable difference, however, when it came to printing a four-page PDF file; the wireless connection took about 1 minute, 34 seconds to print, while the USB connection was slightly faster, taking an average of 1 minute, 23 seconds.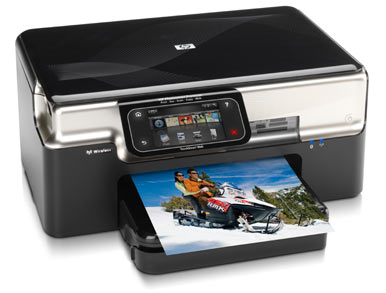 Printing wirelessly from an iPhone using the free HP iPrint Photo 2.0 ( ) application proved easy. Once installed, our iPhone immediately recognized the TouchSmart as the closest available printer. While printing a photo, the TouchSmart automatically detected that we loaded the photo paper incorrectly and prompted a message indicating to us that we needed to flip the paper over, with the glossy side facing downward.
The TouchSmart's touchscreen offers a number of time-saving options for scanning, such as opening the image through software such as Preview, HP Scan, or iPhoto. Our test unit's scanner was very fickle when it came to transferring scans through the network; sometimes it would work effortlessly and sometimes an error message would appear instructing us to plug in a connection when it was not necessary to do so. A simple reboot of the TouchSmart would usually get it working again, but it became tiring after numerous times encountering this problem. When starting a wireless scan from the Mac instead of the scanner's touchscreen however, the process ran a lot smoother.
The TouchSmart includes a 100-sheet, letter/legal input tray and a 20-sheet photo tray, plus a 50-sheet output tray. The automatic duplexer is an especially nice feature. Connectivity is generous, including USB, ethernet, Wi-Fi, and Bluetooth. Slots accommodate CompactFlash, Memory Stick, SD Card, and XD-Picture Card, and the unit also has a PictBridge port.
Ink costs are average, running at 4.4 to 4.8 cents per text page and 12 to 15.5 cents per four-color page, depending on whether you use the standard or high-yield inks.
The Web-based apps are canned, limited versions of certain Web sites. For instance, in Google Maps, you can type in an address, view the location in map or satellite mode, and print the results in a few different layouts. If you want to print out directions, which we figure most people who use Google Maps intend to do anyway, you would have to download a separate application[jg1]. The USA Today application lets you select and print a type of news (such as sports or weather), but you can't preview the contents beforehand. Considering how expensive ink and paper can be, and the fact that the same news content is available online or on its newspaper, it seems wasteful to use this feature. If you're a Snapfish photo site user, you can view, print, and upload photos, but you can't use the slideshow function, which would seem a natural fit for the TouchSmart's 4.33-inch, color LCD. HP says it's considering this feature.
Those apps and a handful of other home-oriented ones arrived preloaded on our test unit; you can download more from the HP App Studio Website. HP says that a software development kit will be available in early 2010-now, that could be fun.
Note that the Web functions do not work unless the machine is connected directly to a network with Internet access. A typical installation via USB to your Mac gets you nowhere with the Print Apps, even if your Mac has Internet access. This seems like an important point, but HP confirmed that it isn't documented anywhere. Also, in order to install the printer drivers into your computer, the printer has to already be up and running through an Internet connection in order for your driver to "detect" what you need to be installed. If you skip this process, the installation process can get hairy and you may not be able see the TouchSmart showing up as a printer option in your Print and Fax System Preferences.
Specifications
| | |
| --- | --- |
| Print resolution | 9600 x 2400 dpi color, 600 dpi black |
| Scan resolution: Optical | 4800 dpi |
| Max. scanning bit depth | 48-bit |
| Connection | USB 2.0, ethernet, PictBridge, Wi-Fi 802.11n, Bluetooth |
| Paper sizes | letter, legal, executive, 3×5, 4×6, 5×7, 8×10, No. 10 envelopes |
| Cost to replace | high yield: $35 black, $19 each for cyan, magenta, yellow, and photo black; standard yield: $12 black, $10 each for cyan, magenta, yellow, and photo black; |
| Weight (in pounds) | 16.53 |
| Dimensions (height x depth x width in inches) | 17.99×19.3 x7.76 |
| Paper capacity | 100 |
| Special features | Internet print apps, touchscreen interface, fax |
The LCD touch interfac works intuitively but it can lag quite a bit, especially while operating the Google Maps apps. As a display, it has a few problems. On our unit, the preview feature for copies and scans kept stalling; HP says a fix is in progress. A message that appears after you change ink cartridges has oddly overlapping graphical elements, which HP acknowledges. The company is also checking on an error message that kept showing up in Google Maps even though nothing was wrong.
Macworld buying advice
The Photosmart Premium TouchSmart Web All-in-One Printer sets a new (if wobbly) direction for the category. We're interested in seeing future apps that hopefully introduce more functionality.
[Melissa Riofrio is a senior editor for PC World. Lynn La is a contributor to Macworld Lab.]