The app store is overflowing with great tools that can turn a photographer's iPhone or iPod touch into a photo assistant (though it falls short in the heavy lifting department). Taking pictures of children? Use the PandaCam app to make them smile. If you're working with models, bring up the iPoseU app for posing inspiration. Still life photographers can take advantage of the A Level app to make sure their images are properly aligned.
Among the many worthwhile apps there are a few standouts. These are our picks for the most all-around helpful tools that every photographer should have in their arsenal. Tell us what's in your iPhone "photo bag" in the comments.
Geotag your photos
Turn your iPhone or iPod touch into a remote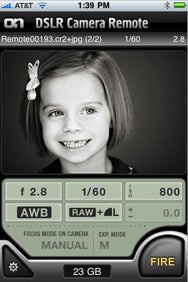 Having one eye glued to a viewfinder can stifle your creativity. If you're shooting with a Canon or Nikon DSLR camera, DLSR Camera Remote by onOne Software gives you the additional freedom you need to move around, take self-portraits, or position your camera in unusual positions. Using DSLR Camera Remote Lite ($1.99) you can remotely trigger your camera's shutter and see an instant preview of the picture you just shot. The pricier pro version of the app ($19.99) allows you to control more advanced camera settings, like shutter speed and aperture, as well as see a live preview of what's on your camera's viewfinder. Both versions of the app require your camera to be connected to a Mac running the free companion software; your iPhone or iPod touch communicates with the computer over WiFi. Check to make sure your camera is supported before purchasing the app.
Predict natural light
If you're planning to shoot outdoors, or indoors using natural light, you'll need to know exactly what nature plans to offer up. The thorough Darkness app ($0.99) tells you sunrise and sunset times, as well as moon times and phases for those long exposure night shots. You can look up information for any day and time, anywhere in the world. Also helpful to photographers, Darkness tells you the azimuth (angle of the sun or moon in relation to the horizon) and altitude of the sun or moon, what time the sun is going to peak, and how bright the moon will be. This information can help you determine ideal shoot times and locations. You can even figure out which way the shadows are going to fall.
Make fast photo calculations
Note: When you purchase something after clicking links in our articles, we may earn a small commission. Read our affiliate link policy for more details.