The app store is overflowing with great tools that can turn a photographer's iPhone or iPod touch into a photo assistant (though it falls short in the heavy lifting department). Taking pictures of children? Use the PandaCam app to make them smile. If you're working with models, bring up the iPoseU app for posing inspiration. Still life photographers can take advantage of the A Level app to make sure their images are properly aligned.
Among the many worthwhile apps there are a few standouts. These are our picks for the most all-around helpful tools that every photographer should have in their arsenal. Tell us what's in your iPhone "photo bag" in the comments.
Geotag your photos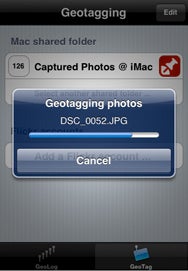 There are many gadgets on the market to help photographers add geotagging information to their photos. The GeoLogTag app ($4.99) accomplishes the same task but uses a gadget you already have, your iPhone or iPod touch. You start by syncing the times of your camera and your iPhone or iPod touch. When you start shooting, open the GeoLogTag app and choose how often you want it to log your location: every 10 meters (called "Continuously"), or every 3, 5, or 10 minutes. The more frequently you tag, the more precise the final location information will be. However, it's also a bigger drain on your iPhone's battery. (The GeoLogTag app must be running to record location information, but will automatically turn off your iPhone screen to save battery life.) If battery life is an issue, or if you're only sporadically taking photos, you can also add tags manually. When you're done shooting, close the app and upload your images from your camera to your Mac. Adding the tags to photos is done in one of two ways. You can put your photos into a shared folder on your Mac, select the folder from the app, and tap the bright red button. Alternatively, you can select a Flickr account from the same screen and add the information that way. Tagged Flickr images will be instantly visible on your Flickr map. A free trial version of the app is also available.
Turn your iPhone or iPod touch into a remote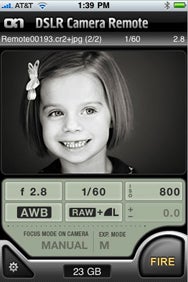 Having one eye glued to a viewfinder can stifle your creativity. If you're shooting with a Canon or Nikon DSLR camera, DLSR Camera Remote by onOne Software gives you the additional freedom you need to move around, take self-portraits, or position your camera in unusual positions. Using DSLR Camera Remote Lite ($1.99) you can remotely trigger your camera's shutter and see an instant preview of the picture you just shot. The pricier pro version of the app ($19.99) allows you to control more advanced camera settings, like shutter speed and aperture, as well as see a live preview of what's on your camera's viewfinder. Both versions of the app require your camera to be connected to a Mac running the free companion software; your iPhone or iPod touch communicates with the computer over WiFi. Check to make sure your camera is supported before purchasing the app.
Predict natural light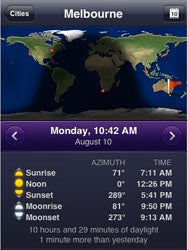 If you're planning to shoot outdoors, or indoors using natural light, you'll need to know exactly what nature plans to offer up. The thorough Darkness app ($0.99) tells you sunrise and sunset times, as well as moon times and phases for those long exposure night shots. You can look up information for any day and time, anywhere in the world. Also helpful to photographers, Darkness tells you the azimuth (angle of the sun or moon in relation to the horizon) and altitude of the sun or moon, what time the sun is going to peak, and how bright the moon will be. This information can help you determine ideal shoot times and locations. You can even figure out which way the shadows are going to fall.
Make fast photo calculations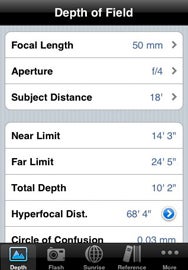 DSLR photography is more than just having a good eye. Getting the perfect shot can require calculations and an understanding of how the different settings on your camera work together. The PhotoCalc app ( ; $2.99) picks up where your light meter leaves off. It provides depth of field measurements like hyperfocal distance, circle of confusion, and near and far limits. It calculates these numbers based on your focal length, aperture, and the distance of the subject from your camera. (You can choose your camera from PhotoCalc's large database of existing models.) Other tools include an exposure reciprocation calculator which has fields for shutter speed, aperture, and ISO. Using a flash? PhotoCalc does that math too, giving you the best settings for a specific flash exposure. Another convenient feature in PhotoCalc is the reference library. You can look up photo terms, details on the zone system and Sunny 16 rule, as well as lists of film and filter types.