Live streaming video on the iPhone and iPod touch is neither "madness" nor the exclusive domain of the heavy hitters anymore. Livestream on Thursday unveiled its free service for streaming live video to the popular Apple devices.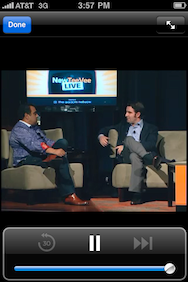 But producers won't need to navigate the tricky waters of the iPhone-app-approval process to take advantage of the technology. Content broadcast via Livestream's service can be accessed through Mobile Safari.
Livestream's free software (available only for Windows, though there's currently a Mac beta version) allows anybody to produce live video streams from sources such as a professional video camera, a web cam, or even a PC desktop. Until now, you could only watch those streams on a computer. This new service takes advantage of the H.264 HTTP live streaming that Apple began including in the iPhone OS's QuickTime player earlier this year.
Livestream says it is also making an API available to developers so that video can be incorporated into apps if producers prefer a more customized experience for their viewers. But the Mobile Safari/QuickTime route will get your video on to the small screen just as soon as you can get Procaster up and running (which Livestream claims takes about five minutes to do).
Check it out now: Point Mobile Safari to iphone.livestream.com and enjoy the bizarre amalgam of content options, ranging from test patterns to guys sitting at their workstations playing with Procaster to Argentinian soccer. It's like having public-access cable in your pocket.