Despite its powerful cataloging tools and easy-to-use editing features, many users are still nervous about committing their photo library to iPhoto. The program's approach to storing images feels a little like the photography version of Hotel California: your pictures check-in, but they can never leave. That may be fine if you don't often venture beyond iPhoto's borders; but what if you want to take advantage of the advanced image-adjustment tools in programs such as Aperture or Lightrooom?
The good news is you can enjoy the benefits of iPhoto and have some flexibility, too. The secret is to create a referenced library. This means that instead of importing all of your master images into iPhoto, you simply "point" iPhoto to where those originals live—whether on your Mac or on a separate hard drive.
The beauty of the referenced-library approach is that you can also point other applications to these same images. You don't have to bother with first extracting the photos from iPhoto. This approach works particularly well with programs that use a non-destructive workflow, such as Aperture, Lightroom, or Adobe Bridge and Camera Raw. Since these programs don't actually apply changes to the image file, you don't have to worry about overwriting your original set of pictures—even if they're all pointing to the same set of shots. (I don't recommend using the approach with Photoshop or other destructive editors as you run the risk of altering your original image irrevocably. Instead, use iPhoto's option to edit a photo in an external editor, so iPhoto can manage the process.)
The referenced-library approach is very flexible and perfectly suited for Raw shooters who have to manage large files. Here's how you set it up.
Creating your referenced library
First, you have to decide where your image files are going to live. A good option is an external hard drive, as this allows your collection to grow without clogging up your Mac's internal storage space. Plus, you then have the option of connecting this hard drive to other computers, too. (Need help choosing one? Read our hard drive buying guide.)
Although not mandatory, I recommend you also give yourself a clean slate in iPhoto by creating a new iPhoto Library file. Mixing referenced shots with those stored within iPhoto can lead to problems: at some point you'll become confused by what lives where.
Your iPhoto library is really just a database that tracks of all your pictures and the information that accompanies them. When you edit a photo in iPhoto, the program doesn't actually change the original image file at all. Instead, it makes note of your settings and then generates a high quality Jpeg that represents those edits. This is your working copy. This approach means that you can go back and adjust the settings at any time without degrading your original image. Every time you do this, iPhoto generates a fresh working copy based on the changes you've made. When you choose to export the photo—to e-mail it to someone else, for example—iPhoto then applies the changes you've made and generates a new jpg, still leaving the original file untouched.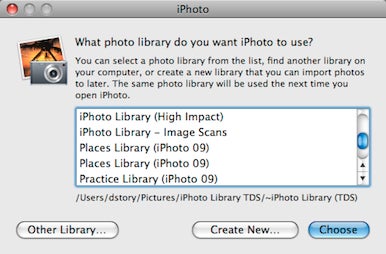 To create a new library, hold down the Option key when you launch iPhoto. In the dialog box that appears, click Create New, and then give your new library a name such as "iPhoto Referenced Library 09." Next, navigate to where you want it to live and click OK. Keep in mind that your iPhoto library doesn't have to live in the same location as your photos. I keep all of my iPhoto libraries in the Pictures folder within my user folder, for example, while my photos sit on an external hard drive. This way I can access my iPhoto libraries even when the external drive isn't connected. (Referenced libraries still allow you to see your thumbnails and accompanying information if the drive containing the masters isn't connected.)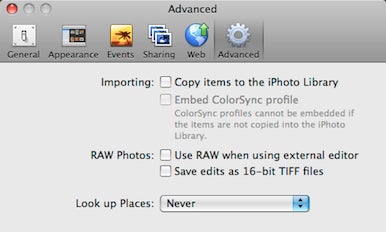 You should now have an empty iPhoto library ready to fill with photos. To switch iPhoto to referenced-library mode, choose Preferences from the iPhoto menu, select the Advanced tab, and uncheck the box next to the Copy Items To The iPhoto Library option. This tells iPhoto to reference imported images instead of copying them.
Adding Photos to iPhoto
To use iPhoto with a referenced library, you'll need to learn some new habits—specifically, how you transfer photos from your camera. Typically, iPhoto will pop up when you plug in your camera and offer to import photos for you. Don't accept its offer. iPhoto will ignore your stated preference and will instead copy the new images to its database.
To keep your photos free, you'll need to first move the files from your camera to the hard drive where you keep your photos, and then import them into iPhoto. The simplest way to do this is to use a card reader, which lets you drag and drop the photos where you want them. If you just want a few of the images, or want to preview the files before you download them, I recommend using Image Capture. This powerful and flexible image-management tool does a great job of downloading photos. What's more, you already have it; just look in your applications folder. After it launches, just Command-click on the photos you want, click the Import button, and then tell Image Capture to copy them to the appropriate folder on your hard drive using the Import To popup menu. (For more on Image Capture's secret powers—including how to prevent iPhoto from popping open every time you plug in your camera—see " Eight amazing Image Capture tricks.")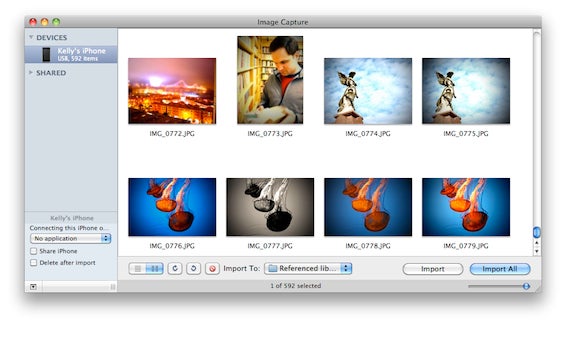 I recommend that you create a new folder on the hard drive for each shoot you download. This lets you keep things organized. Label the folders so you can tell at a glance what's in each of them. I use a month/year format with short descriptive name, such as "10-09 NY Street Shoot." As a bonus, when your import these labeled folders of images into iPhoto, it will use the folder names to describe each Event, so iPhoto and the folders on your master hard drive will be in sync.
To import photos from your hard drive to iPhoto, choose File -> Import To Library. The process will appear the same as always, with one important exception: instead of copying the original file to the iPhoto Library database, iPhoto will create an alias for each photo. The result is a much slimmer library—rather than storing a 20MB Raw file, is only storing a 4kb alias.
Working in iPhoto without the master drive connected
Because iPhoto creates thumbnails of every referenced file you add to your library, you can still view smaller low resolution versions of your pictures in iPhoto even if the hard drive with all of your images isn't connected. This is helpful if you're a laptop owner and want to see the photos in your iPhoto library even when you're away from your external hard drive full of masters. In fact, you can add descriptions, change titles, even organize albums—all with the master drive disconnected. What you can't do is edit the pictures. If you want to adjust exposure or color temperature, iPhoto will warn you that the master file can't be located, and ask you if you want to find it. All you have to do is connect your hard drive of masters, and you can edit to your heart's content.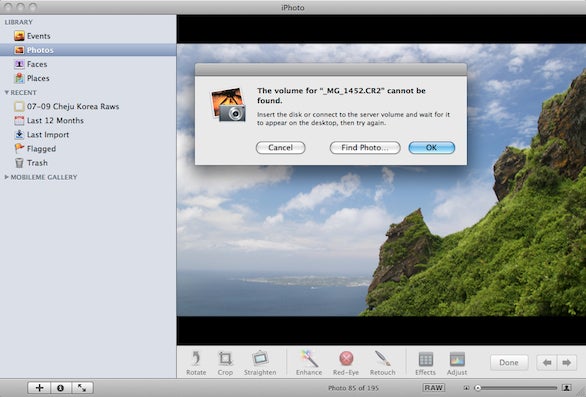 Pointing other applications to your photos
Another benefit of this approach is that you can point Aperture or Lightroom to this same hard drive of photos. In Aperture, just make sure that you choose Store Files In Their Current Location from the Import menu. In Lightroom, choose File -> Import Photos From Disk, then choose Add Photos To Catalog Without Moving.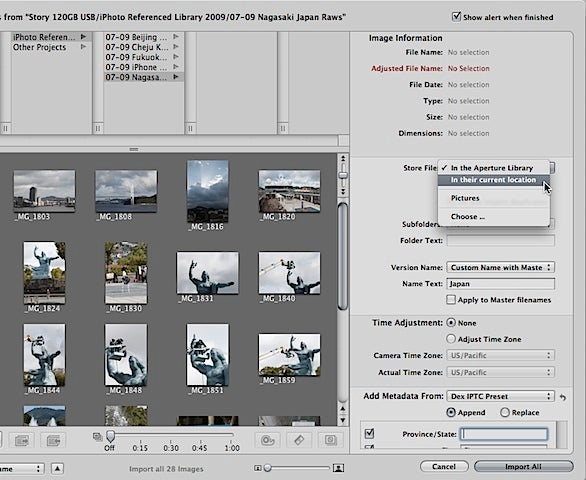 If you want, you can have all three applications open at once and working off the same set of masters. The metadata you create (ratings, keywords, etc.) will be stored within each application. So if you give an image a three-star rating in iPhoto, but give it four stars in Lightroom, it'll retain the different ratings in each program.
Taking precautions
Keep in mind that you'll need to back up your masters so your photos are protected against hard drive crash. You should back up your iPhoto library, too, since it represents any work you've done to your photos, including applying rating, tags, faces and more.
[Senior Contributor and professional photographer Derrick Story teaches iPhoto on Lynda.com and runs a virtual camera club at The Digital Story.]