Convenient and affordable, HD pocket camcorders make it easy to shoot a video. It's as easy and point-and-shoot. They are limited in important ways—they lack features found in full-sized camcorders, and the CMOS sensors and lenses aren't of the highest quality.
Even with these limitations, pocket camcorders offer some advantages. Primarily, because they're so portable, you're far likelier to be able to use them spontaneously. Also, their 720p nature (the progressive video that looks good on a computer monitor) makes these the perfect camcorders for shooting quick and dirty video you'll post to a video-sharing service such as YouTube.
Buying advice: Pocket camcorders
Resolution: Most pocket camcorders shoot in standard definition and high-definition 720p. Some pocket camcorders are capable of 1080p. Unlike full-sized camcorders, pocket camcorders don't offer a wide variety of resolution modes.
Video format: Pocket camcorders save video either as H.264 MPEG-4 files or H.264 AVI files. You can easily import these files into iMovie '09. Some camcorders have editing software built into the camcorder. You can launch the software on your Mac, edit the video, and then save the results on your Mac's hard drive.
Storage: The majority of today's pocket camcorder save video to a memory card (the Flip camcorders, which use non-removable media, are the notable exception). Pocket camcorders act like USB flash drives-connect one to your Mac via USB, and it will appear on the desktop as a removable hard drive. If a pocket camcorder has removable media you can also remove the memory card and use a card reader.
Connectivity: Many pocket camcorder have a built-in USB connector. A push of a button usually releases the connector so it's ready to plug into a USB 2.0 port. Others require a USB cable that's usually included with the camcorder.
LCD: Pocket camcorders are dead simple to operate and have a small LCD display for viewing your subject and the movies you've shot. These camcorders don't have viewfinders.
Image stabilization: Most pocket camcorders don't include image stabilization, so the video they capture is likely to be shaky unless you use a tripod or have unearthly muscle control. Camcorders that do offer image stabilization are using digital image stabilization, which processes your images and can compromise image quality.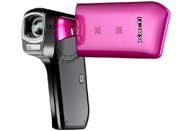 Manual controls: Pocket camcorders truly are point-and-shoot and usually don't offer exposure or focus controls.
Our favorite pocket camcorders
The pocket camcorder may be the hottest holiday gift this year. To help you make a decision, here are some of our top-rated pocket camcorders from the products we've reviewed. You can also view our slideshow of the hottest new full-sized and pocket HD camcorders available this holiday season.
The new, updated Flip MinoHD ( ) sets a new standard for pocket comcorders. Solidly built with a brushed aluminum exterior, the Flip MinoHD produces colors that are as realistic as we've seen from a pocket camcorder. Read our full review. [$230 ( Get best current price); Cisco]
It may not be fair to call the Sanyo Xacti VPC-CG10 ( ) a pocket camcorder, because all it has in common with those camcorders is the price. The VPC-CG10 has a lot of features you can't find in a pocket camcorder, such as 5X optical zoom, optical image stabilization, and exposure, white balance, and focus controls. Read our full review. [$200 ( Get best current price); Sanyo]
The Kodak Zi6 ( ) has been out for over a year, but it's still a very good pocket camcorder. Not only does it produce good-looking 702p video, it is also very easy to use. Videos are recorded in H.264 format, so you can copy then to your Mac over USB and watch the video using QuickTime, or import them into iMovie or Final Cut Pro for editing. Read our full review. [$160 ( Get best current price); Kodak]
[Christopher Breen is the author of The Flip Mino Pocket Guide (Peachpit Press, 2009) and is a Macworld senior editor. Roman Loyola also contributed to this guide.]