At a Glance
Expert's Rating
Pros
Plenty of volume and multiple inputs
Compact, all-in-one speaker system with good sound quality
Cons
Virtual surround-sound effects don't live up to the hype
Tiny remote control can be hard to use
Our Verdict
At first glance, the SSB-1 looks like a fairly ordinary iPod speaker system, but there's a lot more to it. The SSB-1 is actually a sound bar—a speaker system that attempts to create virtual surround-sound effect without having to use a complex surround-sound speaker setup with multiple speakers and yards of ugly cabling strewn across the floor.
There's a dock for an iPod mounted on top of the unit, plus four analog and one digital input for other types of devices; a small LCD display provides information on volume and more.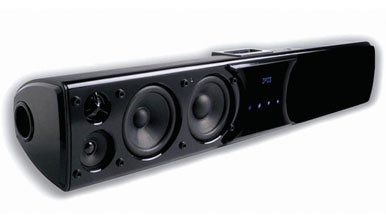 The sound quality is pretty good too—lovely and clear on higher frequencies, with a powerful bass punch from the subwoofer. The sound doesn't get distorted as you turn the volume up, either.
The virtual surround-sound option isn't the SSB-1's strongest feature, however—the technology doesn't really live up to its billing. However, it works very well as a general-purpose speaker system.
Macworld's buying advice
The SSB-1 produces a clean, powerful sound, and the dock and multiple inputs allow you to use it with an iPod, TV, and other devices. But the virtual surround-sound feature doesn't live up to its promise.