Nothing adds to a slideshow like a little music—or at least, that's what Panasonic thinks. The company announced its first audio system with both an iPod dock and digital photo frame.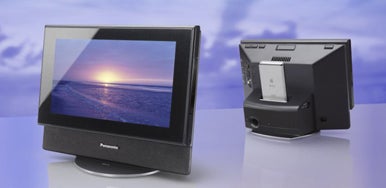 Set to arrive in December, Panasonic's MW-10 features a built-in CD player and FM/AM radio tuner sporting a 45-station Preset Memory. The back of the device features a universal iPod dock for playing your own collection of tunes. An included remote control lets you run everything from afar.
There's more to the MW-10 than music, though. It also features a 9-inch WVGA LCD screen for displaying photos from a CD, SD Memory Card, and 4GB of internal memory. Panasonic says the device store up to 6,000 photos with its built-in memory, which should keep those musical slideshows running long into the night.
The MW-10 will cost $300.