Editor's Note: The following article is reprinted from the Today @ PC World blog at PCWorld.com.
iRiver, best known for teensy, feature-packed portable music and video players, is hopping on to the increasingly crowded e-book reader bandwagon with one of the skinniest entries to date.
Fleshing out product line leaks from last summer, the company says its Story e-book reader (I'm surprised that nobody else had thought of "Story" as an e-book reader brand), to be unveiled this week at CES in Las Vegas, is a mere 0.36 inch thick. That could beat out Bookeen's Cybook Opus, which bills itself at 0.4 inches thick (but they might be rounding up. Who knows?).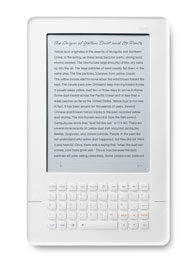 But even more impressive at this size is the list of bundled features (which is typical of iRiver products). According to iRiver's news release, the Story will have a QWERTY keyboard, a 6-inch e-Ink display, a Microsoft Office file viewer, MP3 player (of course) with headphone jack, voice recorder, and personal organizer "with memo pad and scheduler."
The Story will have 2GB of internal memory (most of the e-book readers we've seen top out at 1GB) as well as an SD card slot for adding up to 16GB of additional storage. iRiver also talks about a "comics viewer." The Story will support the e-Pub format and commercial content available through sites that use Adobe Digital Edition software.
iRiver says the Story will debut this month "at select retailers" in the US, to be followed by mid-year with a Wi-Fi-enabled version. No word on price yet, other than it's supposed to be competitive.
Read more of our coverage of CES 2010.