If you're a fan of American Idol or you find yourself haunting local karaoke bars, iSing is right up your alley. Dubbed the, "Worldwide Talent Show for the iPhone and iPod touch," iSing combines the unvarnished honesty of American Idol with the bald discomfort of a karaoke bar, letting you vote on 30-second snippets of music recorded by others; you can also create your own 30-second snippets and subject them to a public thumbs up or thumbs down.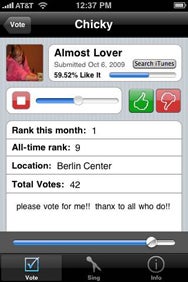 The $1 app from Island Labs opens to a list of the current contestants vying for your vote, displaying the ten most recent contestants sorted by date from newest to oldest. Each contestant appears as small thumbnail photo, along with a thumbs-up and thumbs-down button, some information about the song, who's recorded it, and how many people have liked it thus far. If you tap the user information you can see more detail about that user, including where they live, current and all-time ranking for the song, the total number of votes the song has received thus far, and a note from the contestant about the song and why you should vote for them.
iSing also gives you the option of changing the way you view the list of contestants, allowing you to view the best and worst tunes by month or all time. You can also see a list of contestants based on their name or location.
Tapping the thumbnail photo starts the song and, once you're done listening, you can tap either the thumbs-up or thumbs-down button to vote. You're only allowed one vote for each song, which is good, but it's also possible to vote for a song without listening to it—that seems a little bit lame to me.
Recording your own tunes is a piece of cake. Simply tap the Sing button at the bottom of the screen, then tap the plus on the recordings screen and a big red Record button appears. Tap that, and you're off to the races.
iSing lets you record ten 30-second takes before it overwrites the oldest cut, but you also have the option of deleting the cuts you hate before iSing wipes out your first, best cut. When you're ready to upload your song, you add profile information, which must include an e-mail address, contestant name, and city name; you can also include a message to voters. You're allowed to enter one song per calendar month, though you can pay 99 cents for each additional song you want to enter. Winners and top ten lists are posted each month on the iSing page of the iTunes Music Store.
I found iSing to be a real hoot, as did my children, although they all have yet to tread the waters of personal embarrassment and upload their own dulcet tunes. And that highlights one of the beauties of the program: You can vote as often as you wish without once having to upload a song of your own.
I also found it entertaining to troll through the "Worst" lists and find some of my worst favorites. (No lie, there's a character on iSing who makes Jared the Butcher of Song seem like a potential Grammy nominee.) My one disappointment—and what I think limits the value of the app—is how few times a month you can upload a song without having to pay a fee. Sure, you don't want people uploading a song a day for a month, but allowing only one song per month may be too few opportunities for fun. Considering the national attention span, the limitation may make people forget about iSing. After all, even William Hung got more than once a month to play on American Idol.
[ Jeffery Battersby is a (very) smalltime actor, writer, and IT manager living in upstate NY.]