At a Glance
Expert's Rating
Our Verdict
With so many big developers updating their product lines, small tech companies often get lost in the shuffle. To stand out during the Fall hard drive push, your drive has to have a real wow factor. The iStoragePro Pocket, developed by CI Design, is an unlikely candidate to turn heads. It's an external drive with a generic aluminum enclosure and a lack of name recognition. Pricey and heavily-built, the iStoragePro Pocket could easily be relegated to the piles of similar drives that launch every year.
But storage shoppers shouldn't overlook this obscure drive. Equipped with a strong warranty and a 7200 rpm mechanism that produces some of the fastest connection speeds we've ever recorded on a portable drive (we tested the 320GB version), the iStoragePro Pocket may resemble a Ford Taurus on the outside, but on the inside it's all Formula-1.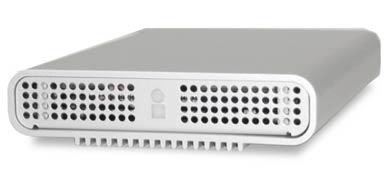 The front of the iStoragePro Pocket's aluminum enclosure is reminiscent of the Mac Pro's trademark perforated front. The drive weighs roughly one and half pounds and has similar dimensions as LaCie's Starck Mobile Hard Drive, making it one of the bulkier portable drives on the market. You could fit this drive into your pants pocket, but the "pocket" in the drive's name really should refer to a backpack pocket.
The iStoragePro Pocket has two FireWire 800 ports and a USB 2.0 port. The drive comes with a FireWire 800, FireWire 800 to FireWire 400, and USB splitter cable. The USB cable plugs into one port on your computer while drawing power from a mini port and a DC port on the device itself. This rather unique arrangement draws more power to spin the mechanism and enables the iStoragePro Pocket to be compatible with older laptops that usually would not be able to provide enough power to spin the drive's 7200 RPM mechanism.
The "Cool Bay Passive Heat Sink" is used in lieu of a fan; the drive produces a moderate amount of noise (admittedly more than average) and feels warm to the touch, but never felt hot or loud. For a 7200-rpm drive, I wasn't entirely surprised by the louder spin-up sounds and I didn't begrudge the drive its noise level considering the fast times it was producing in our tests. The manufacturer of the hard drive's mechanism is Seagate and the unit comes with a three-year limited warranty.
Priced at $259, the iStoragePro Pocket is currently far more expensive than much of its competition. Expect the price to drop, of course, as storage gets cheaper.
Our current top product for portable hard drives (non-SSD category) is OWC's Mercury On-the-Go ( ). OWC enjoys a strong following in the Mac community and produces some terrific drives, including the On-the-Go model. It's 1GB copy test while utilizing its FireWire 800 connection is a blistering 35 seconds. The iStoragePro Pocket shattered this with a time of 31 seconds over its FireWire 800 connection. In fact, all of its copy tests across all connection types were faster than the Mercury Pro.
Timed trials
| | |
| --- | --- |
| Copy 1GB file to FireWire 800 | 0:31 |
| Duplicate 1GB file via FireWire 800 | 0:45 |
| Low-memory Photoshop: FireWire 800 | 1:20 |
| Copy 1GB file to FireWire 400 | 0:41 |
| Duplicate 1GB file via FireWire 400 | 1:05 |
| Low-memory Photoshop: FireWire 400 | 1:30 |
| Copy 1GB file to USB 2.0 | 0:46 |
| Duplicate 1GB file via USB 2.0 | 1:16 |
| Low-memory Photoshop: USB 2.0 | 1:38 |
Scale = Minutes: Seconds
The duplication tests were similarly competitive, either slightly behind or slightly better than the Mercury Pro.
Unfortunately, the iStoragePro Pocket couldn't complete the sweep and best the Mercury On-the-Go at the Low-Memory Photoshop tests. This regime of several tests simulates some of the more complicated tasks hard drives are often faced with, and the iStoragePro Pocket finished several seconds behind the Mercury Pro with every connection type. Still, these times, especially the FireWire 800 score of one minute and 20 seconds, are competitive with some of the best drives on the market. The copy tests alone make this one of the fastest units out there, proving that CI Design is a developer that can run with the big boys.
Specifications
| | |
| --- | --- |
| Price per gigabyte | $.81 |
| Connectors | FireWire 800 (2), USB 2.0 (1) |
| Rotational speed | 7200 rpm |
| Other capacities | 250GB, 500GB |
Macworld's buying advice
CI Design's iStoragePro Pocket is heavy, pricey, and a bit bulky for an external hard drive, but it's easily one of the fastest portable hard drives we've ever looked at. Speed enthusiasts will ignore the superficial and economic detriments to the drive, while money-saving storage fans may wait for the price to drop before picking up the iStoragePro Pocket.
[Chris Holt is a Macworld assistant editor.]
Note: When you purchase something after clicking links in our articles, we may earn a small commission. Read our affiliate link policy for more details.