At a Glance
Expert's Rating
Pros
Syncs your Mac to other Windows Mobile, computers, USB flash drives, Google, and other devices
Send SMS messages from the Mac
E-mail syncing
Cons
No PDF manual
The online help documentation is sparse
Our Verdict
Version 2.4 was a major upgrade for the SyncMate sync utility, adding new features and new devices for the Mac to sync with. In addition to Pocket PCs and smartphones, Macs running SyncMate can also sync with another Mac, a Windows PC, a Nokia Series 40 phone, a Sony Playstation Portable (PSP), and with a USB flash drive. You can sync with all of these devices and computers at one time, or choose which to sync. You can connect with a USB cable, Wi-Fi, or Bluetooth, depending on what the device supports.
SyncMate comes in a free version that can sync with Address Book and iCal, and with Entourage contacts and calendars. It can also copy SMS messages to the Mac, where you can read and search through them. A nice touch is the ability to delete all contacts, events, or to-dos that reside the device or another computer that your Mac is connected. This is an easy way to clear out old data before syncing for the first time.
However, for the $40 Expert version, you can sync much more of your Windows Mobile data. I looked at the $40 SyncMate Expert 2.4, which is chock full of data types and handy features, many of them unique.
For example, SyncMate Expert is the only utility that will sync Windows Mobile e-mail with the Mac Mail application (Entourage e-mail isn't supported). It's a one-way sync, where you select mailboxes to sync over to the phone. The mailboxes appear in a Mac OS X Mail folder in the phone's Mail application, where you can read, reply to, and forward them. To prevent floods of e-mail from filling your Windows Mobile's memory, you can limit the sync to one or more weeks of e-mail.
While the free version of SyncMate lets you view SMS message on your Mac, the Expert edition lets you send messages from your Mac, where you have a full-sized keyboard. Just type the message in SyncMate and sync with the device. Another useful feature is the ability to copy the call log to the Mac. SyncMate Expert provides a search field for calls history, as well as the ability to view incoming, outgoing, or missed calls.
If that isn't enough, SyncMate Expert also syncs music, photos, and movies, with iTunes and iPhoto or to a folder. There's also syncing of Safari and Firefox bookmarks, Mail notes, and even stickies. You can also install Windows Mobile applications from the Mac. Just drag a CAB file to the Application List, which displays the applications installed on the Windows Mobile device. Perform a sync to install the software.
The software performed as advertised, though at first, our HTC Touch device had some trouble connecting with SyncMate. A free maintenance update of SyncMate cleared it up.
One complaint I have is the sparse documentation. Although the interface is relatively straightforward, there are times when you can use some help figuring out how to accomplish something. There's no PDF manual, and selecting SyncMate Help from the Help menu sends you to the Eltima Website. There, you often find only a sentence or two about a particular topic. There's no description of what to expect on the Windows Mobile device (such as were the synced mail shows up), and often doesn't provide enough information to solve problems.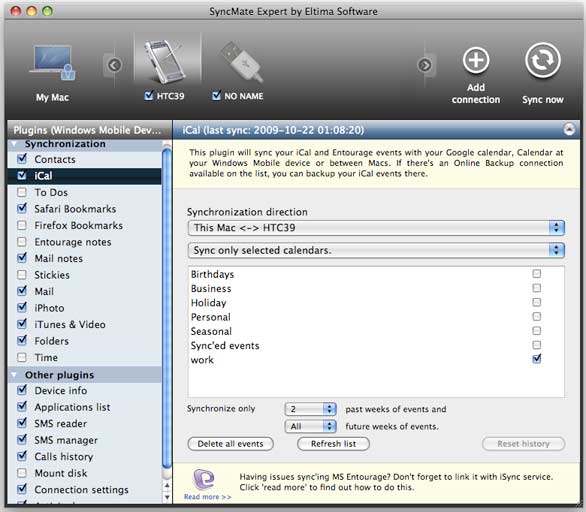 Macworld buying advice
SyncMate Expert syncs more types of Windows Mobile data than The Missing Sync for Windows Mobile 4 ( ), which is SyncMate's main competitor. And, it can also sync your Mac to more devices and to other computers. If you all you need to sync are Contacts and calendar, then the free version may be all you need. Otherwise, the Expert version is worth the price.
[John Rizzo is publisher of MacWindows.com and author of Mac OS X Snow Leopard Server for Dummies (Wiley Publishing, 2009).]