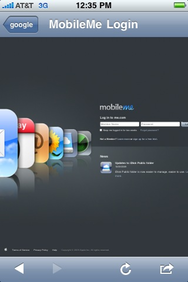 Honestly, we hope you never need this week's iPhone tip, but just in case, you may be glad that you have it. Say you're out shopping in this run-up to the holiday season and, when your back is turned, your iPhone mysterious vanishes—purloined by the sticky fingers of an opportunistic thief.
You probably already know that if you're a MobileMe subscriber, you can track your missing handset using the Find My iPhone feature of the MobileMe Website. The downside? If you try to access the MobileMe site on your iPhone, Apple will show you a screen telling you that in order to actually login to the service, you need to use a computer. So even if one of your friends has an iPhone with them, then you're out of luck until you can get to a Mac or PC.
TidBits editor and frequent Macworld contributor Adam Engst has a clever solution to this problem, which lets you take advantage of the fact that you've probably already got an app on your iPhone that will help you circumvent this restriction. Adam walks you through all the steps over at TidBits. (I'll add one extra tip: if you use a Twitter application like Tweetie 2, you can go to the URL in a user's profile and if you visit Google's Twitter page that means you have access to Google and, by extension, the rest of the Internet.)
As nice as this workaround is, it would be nice to see Apple let you access the Web version of MobileMe's services in Safari on your iPhone. I know the company has native apps for most of the site's functionality, but this is at least one occasion where it would certainly be useful. Would it really hurt to have an iPhone-friendly version of its own online service?
If you've got an iPhone tip you'd like to share, you can submit it for inclusion in our weekly column by sending an e-mail to iphone@macworld.com with the subject line iPhone Hint.