At a Glance
Expert's Rating
Pros
Beginner-friendly menus and controls
Smooth, vibrant HD video
Cons
Disappointing low-light performance
Our Verdict
The 12-megapixel Panasonic Lumix DMC-GH1 is a unique digital camera that supports interchangeable lenses. Although it looks like a DSLR, it's not-though it is based on the Micro Four Thirds system.
The DMC-GH1 is smaller than traditional digital SLRs, but not by much. Its size, friendly menus, and simplified interface boost its appeal to not-quite-novice photographers who want more than a point-and-shoot but are still intimidated by a true digital SLR. Both its ability to let you swap lenses and its support for 1080p video at 24 frames per second (as well as 720p video at 60 fps) make this camera compelling to high-definition videographers.
However, The DMC-GH1's $1500 price will likely deter consumers graduating upstream, and it may be off-putting to DSLR purists. Experienced photographers looking at long-term prospects in the DSLR market for capturing high-definition video might also shy away. That's not a knock on the performance of the DMC-GH1; it's a solid camera. However, the DMC-GH1 does falls short of the DSLR experience in a couple of key areas.
First and foremost is its lack of an optical viewfinder, which is replaced in the DMC-GH1 by a mediocre electronic viewfinder (EVF), and a convenient, flip-and-swivel 3-inch LCD. The eye-level EVF is really useful only for shot composition and for use as a backup viewfinder in direct sunlight; images viewed through it look like a yellow-filtered, choppy security video feed. I did find the flip-out, articulating LCD handy for overhead and low-angle shots. While using a Live View LCD to compose shots may be second nature for long-time point-and-shoot users, the lack of an optical viewfinder could be an issue for DSLR fans.
Another issue: The DMC-GH1's low-light performance falters compared with today's traditional DSLRs. The unit's 17.3mm-by-13mm CMOS sensor does a great job in bright light and in darker conditions at ISO levels up to 800, but the visible noise at 1600 and 3200 ISO was more in line with a point-and-shoot than a DSLR. By comparison, the CMOS sensors in two DSLRs, the Nikon D90 ([ ]; 23.6mm-by-15.8mm) and the Canon EOS Rebel T1i ([ ]; 22.3mm-by-14.9mm), are both larger, which helps reduce noise. Both of those models are entry-level DSLRs with high-definition video recording, significantly lower prices than the DMC-GH1, and a wider variety of lenses available than is the case with the Micro Four Thirds system.
Another slight drawback (albeit one that isn't related to the DSLR versus non-DSLR debate) is the lack of a body-based image stabilization system. Stabilization is all done in the lens; the included 14mm to140mm lens is optically stabilized, but you'll need to buy stabilized Micro Four Thirds lenses rather than letting a sensor-shifting body do all the work.
One of the DMC-GH1's major strengths is its design. It's easy to use, offering a great blend of the point-and-shoot and DSLR features that its target audience would be looking for. The intuitive menu system and on-screen instructions provide excellent training wheels for beginners (Panasonic has somehow made this complicated camera usable without your ever having to read the manual).
The camera has easily accessible options for both novices and more advanced users. The dial on its top packs scene- and custom-mode options; intelligent auto, portrait, macro, night portrait, sports, and landscape modes; and traditional shooting modes such as aperture priority, shutter priority, program mode, and full manual mode. The camera captures images as JPEG or RAW files.
In my hands-on tests, the camera performed best in well-lit indoor and outdoor settings. Not surprisingly, performance depended largely on the lens being used for the shot; the optically stabilized 14mm-to-140mm, f/4 to f/5.8 kit lens (28mm to 280mm in 35mm film equivalent) struggled to focus a bit in macro shots. Switching to the ultra-wide-angle Lumix G Vario 7mm to 14mm (14mm to 28mm) fish-eye lens (sold separately for $1100) made for outstanding, vividly colored, and clear macro shots.
The flip-out LCD gives you two main display options during shooting: Live View or an on-screen display of the current shutter, aperture, white balance, ISO, and other important settings. The pop-up flash on the DMC-GH1 is serviceable, but sometimes led to uneven exposures; it caused some vignetting and spotlight effects in my test shots.
In our lab's jury-based imaging evaluations, the DMC-GH1 produced sharp but dark images. It scored well in terms of lack of distortion, sharpness, and color-correction, but our jury found exposure quality and color accuracy in test shots to be subpar when compared with test shots from digital SLRs. Overall, the DMC-GH1 earned an imaging score of Good.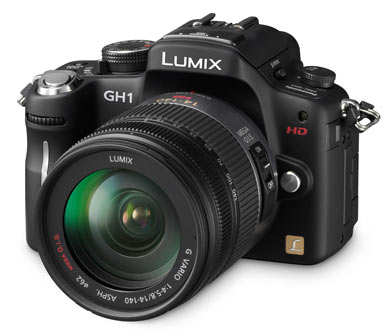 The DMC-GH1's real appeal lies as a combo still camera and video camera. In fact, it may be a better camera for video than stills. It provides a choice of capture options, including resolution, frame rate, and format (AVCHD or motion JPEG). You'll get smaller HD video file sizes with AVCHD, but you also have the choice to record as AVI files for compatibility with more editing programs and video-playback software. If you choose AVCHD, you have the option of recording 1920-by-1080 (1080p) video at 24 fps and 17 megabits per second or 1280-by-720 (720p) video at 17mbps. You can also record motion-JPEG video at 720p and 30 fps, as well as at standard-definition 640-by-480 resolution and 30 fps.
In my hands-on tests, 1080p video recorded in AVCHD was stunning: It looked smooth and sharp, with bright colors. I enjoyed the creativity of experimenting with additional lenses, too: The 7mm to 14mm lens was perfect to create videos with a fish-eye effect and to zoom in tight on smaller subjects.
The DMC-GH1's design plays into its video-friendliness, too, thanks to a dedicated video button. To start shooting video at the drop of a hat, you press a button on the top-right of the back. Unlike with some digital SLRs that do video recording, you can use the DMC-GH1's autofocus system while shooting video, and it works extremely well. The autofocus stayed sharp when I zoomed into the frame with the 14mm to140mm kit lens; however, the autofocus struggled a bit when cars zipped by in the foreground of the shot. You can also switch to manual focus for greater focusing accuracy.
The DMC-GH1 did an impressive job adjusting to different light conditions during a single video sequence; I panned from bright sunlight to a shadowy scene to an interior shot in one take, and the camera made accurate adjustments within a second of the lighting conditions changing.
On-board audio recording is good, but it favors the shooter rather than the on-camera subject. Even so, the DMC-GH1's stereo mics on the top of the camera (above the flip-up flash) do a better-than-usual job at picking up front-of-camera audio than other top-mounted mics I've used. However, I couldn't test the audio recording in extremely windy conditions. If you plan to be serious about shooting video with the DMC-GH1, you can bring your own external mic: A hot-shoe on the top of the camera supports an external mic (as well as an external flash).
Although AVCHD still has compatibility issues with some editing programs and playback software, the DMC-GH1's HDMI-out port means that you can hook the camera up directly to an HDTV and view AVCHD video that way; Panasonic's Viera HDTV line also supports AVCHD playback via an integrated SD/SDHC slot.
Macworld's buying advice
Judged on its merits alone, the Lumix DMC-GH1 shines. But at $1500, it's significantly more expensive than an entry-level DSLR, and that's before factoring in the price of buying those hard-to-find Micro Four Thirds lenses. (You can also buy an adapter that allows the GH1 to use standard Four Thirds lenses for around $150.) Those with enough cash and curiosity to invest in the GH1 will be pleased with its ability to capture video. But those who opt for a full-fledged DSLR that shoots video will have more lenses to choose from, and more pocket money to buy those lenses.
[Tim Moynihan is a senior editor for PC World.]