JunoWallet GiftCards, a free iPhone app from Junobe, aims to help you keep track of all those plastic gift cards you've accumulated. And while it does a passable job, the app needs some serious work before it can be come truly useful.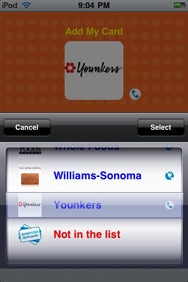 When you get a new gift card, you're supposed to enter it into JunoWallet. That's the first pain point. Heaven help you if your gift card is for Williams-Sonoma: You're forced to add new cards by scrolling through a painful-to-navigate carousel. An auto-completing search box or iPod-like alphabet in the right rail would make a ton of sense here, but you're forced to spin and spin until you find the brand you're seeking.
Once you do choose the right brand, it's time to add in the card's number and PIN. A lot of gift cards have multiple numbers printed on them; I wish JunoWallet told me the number of digits to look for when adding cards for different brands. It doesn't. And once you're on the screen to add the card info, it's impossible to tell whether it's one of the gift cards that the app can look up the balance for automatically. I suspect most gift card hoarders don't know the exact balances on their card, and when the app can't look up the balance for me, it's relegated to fairly useless. You're forced to keep the card balances updated manually, which for me is a solution that doesn't scale.
With some retailers—including Target, Best Buy, and Borders—you can shop directly from within the app, even limiting your product searches to items you can cover completely with your gift card balance. With the rest, if you don't intend to use the cards online, you'll still need to carry the card itself around with you, since no retailers will currently accept a gift card from your iPhone screen.
JunoWallet shows promise—a recent update lets you buy discounted and personalized giftcards with the app. But it still has a considerable way to go to deliver.
[ Lex Friedman remembers back when he used to get carded.]