Editor's Note: The following article is reprinted from GamePro.com. For more gaming news, visit GamePro's news page.
You want more Call of Duty in your life? Activision has just released the first official iPhone game in the franchise in the shape of Call of Duty: World at War: Zombies. This is the same zombie experience found in the console version of World at War, and it supports up to four players via either a local Wi-Fi connection, or full online play (Wi-Fi only, no 3G or EDGE support).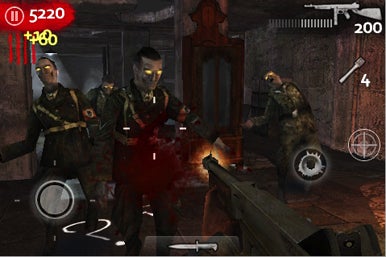 Like many recent first person games on the iPhone, Zombies supports a variety of different control schemes including both "virtual" on-screen analog sticks, and a tilt-based scheme.
Right now, World at War: Zombie on iPhone is just a single map, called "Nacht der Untoten" (Night of the Undead) and costs $10. So far, user reviews on iTunes have been very favorable, though many note that when the gamee says that it's "best played on a second-generation iPod touch or higher with the latest firmware," it really means it. The game moves pretty sluggishly on a first-gen iPhone or even a 3G.