At a Glance
Expert's Rating
Pros
Good connectivity
Smart styling
DVD and CD player built in
Cons
Sound quality isn't worth the price
Off-center iPod dock
Our Verdict
Referred to throughout the marketing material as a 'he', Roth Audio's Alfie appears to have quite a grand opinion of 'himself'. And if you consider that it's an iPod docking stereo system with a CD player, AM/FM radio, and a DVD player all rolled into one, you may be inclined to agree.
It certainly looks the part when you take it out of the box. The Alfie has a curved design with silver sides and a shiny piano-black top panel.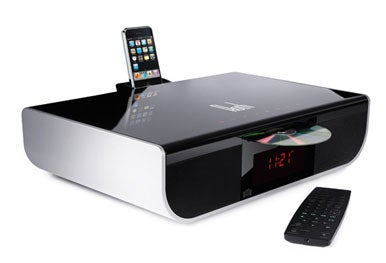 The connectivity ports for your TV are on the back of the unit, while the top has a row of touch-sensitive red lights that act as buttons.
However, Alfie's looks are blighted somewhat when in use. There's a click-to-open iPod dock at the back—inexplicably it's slightly to the right of center. The touch-sensitive buttons are also on the unresponsive side.
Overall, the sound is OK, but the high price tag ($815 on Amazon.com) reflects the unit's multi-purpose nature rather than any exquisite audio output.
Macworld's buying advice
The Alfie promises much with its cool styling and all-in-one approach to your living room entertainment. We have to say, though, that the sound really isn't good enough for this to be a main speaker unit; but as a DVD and CD player to play through the TV set, it does a good job.