At a Glance
Expert's Rating
Pros
Wide range of exposure modes
10X optical zoom
Cons
Slow recycle between shots, especially with flash
LCD hard to see in sunlight; no optical viewfinder
No wide-angle lens
Our Verdict
Canon's10 megapixel PowerShot SX120 IS is a AA-powered pocket megazoom for the photographer on a budget. It's a slim, sexy, and lightweight 10X-optical-zoom camera with features for both beginners and advanced shooters, but its shutter lag and short battery life might be deal-breakers.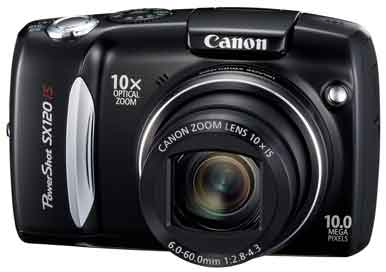 The 10X optical zoom spans from a wish-it-were-wider 36mm to a deep 360mm telephoto, and optical image stabilization and face detection are available to enhance your shooting sessions. Face detection is fun—you can let the SX120 IS find faces in your scene and use them to focus and set exposure, for example. Or, in self-timer mode, you can set the timer to begin after faces enter the frame. I found, however, that the feature worked inconsistently, sometimes failing to identify the face).
On the SX120 IS you'll discover no shortage of exposure options from which to choose. You get aperture priority and shutter priority modes, plus full manual controls. If you want the camera to handle overall exposure duty but you still want the option to fiddle with details like white balance and exposure compensation, choose Program mode. Auto mode handles almost everything on its own and is great for the casual user. Oddly, though, the camera also has a redundant Easy mode that is a lot like Auto but offers fewer options for customizing the shot.
The SX120 IS provides 13 scene modes; Indoor, Night, and Landscape are on the main control wheel, while less-common scenes (such as Aquarium and Foliage) spill over onto the menu in the LCD. Notably absent is a dedicated Sports mode, but you do get a Kids & Pets setting that similarly favors a faster shutter speed.
Shutter speed tops out at 15 seconds, and you have an aperture range from f2.8 to f8. Though the ISO maxes out at 1600, the camera has a special scene mode that pushes the sensor an additional stop, to 3200. It achieves that, in part, by dropping the resolution to 1600 by 1200 pixels. The results are predictably noisy, but not as bad as I expected, making that mode a reasonable option for capturing photos in really dark environments. At more ordinary ISO levels, image quality is quite good, with accurate color. The pop-up flash is especially strong, able to fill a room indoors and more than able to illuminate the foreground of skyline portraits.
On the other hand, the camera is slow enough that you feel like you've earned every photo you take. Waiting 4 seconds between shots under normal lighting is bad enough, but it took about 5 seconds to get control of the camera back after using the flash. The camera does have a continuous shooting mode; but at about one frame per second, even that felt sluggish.
Be sure to pack an extra pair of batteries or three: The SX120 IS chews through two AAs like a photographic Pac-Man. In our lab's battery tests, the SX120 IS took just 220 shots on a set of fresh batteries; most point-and-shoots we've evaluated will give you at least 300 shots before the juice runs out.
On the plus side, its zoom and autofocus snap into action quickly. Unfortunately, movie mode doesn't benefit from the optical zoom: You can zoom optically right up until the moment that you start filming, but at that point, as long as you're recording video, it's digital zoom all the way. At a maximum size of 640 by 480, the movies fall far short of HD.
You control all these settings with a pair of dials—one on top of the camera and another on the back. It all fits nicely in your hand, with the controls easy to master and pretty much right where you'd expect them. Regrettably, the camera's smooth plastic finish couldn't be much slicker if it came coated in baby oil; if Canon had added some texture, it would have gone a long way toward making the SX120 IS feel more secure in the user's grip.
The star of the show is the enormous 3-inch LCD screen. It's bright and sharp in most situations; but outdoors, I lamented the lack of an optical viewfinder, since the display washed out in direct sunlight. Plus, the presence of an optical viewfinder would have helped the camera's paltry battery life significantly.
Specifications
| | |
| --- | --- |
| Resolution (in megapixels) | 10.0 |
| Optical zoom/focal length (35mm equivalent) | 10X/36mm-360mm |
| Battery type | 2 AA |
| Media Slots | 1 (SD) |
| Size (width x height x depth, in inches) | 4.4 x 2.8 x 1.8 |
| Weight (in ounces) | 9.1 |
Macworld's buying advice
The Canon PowerShot SX120 IS a surprisingly beefy little pocket megazoom, able to accommodate a variety of shooting situations from all-auto casual pictures to tricky low-light, manual shots. Just about the only place it won't seem suitable is on the fast-action sports scene, where the lag between shots could drive you crazy.