Stan Miasnikov's WritePad Pro is a powerful word processing and note-taking app for the iPhone and iPod touch that incorporates three separate apps: WritePad Affairs, WritePad Notes and WritePad Events. Oddly, the developer's PhatNotes, a popular app for Windows-based PDAs that uses the WritePad text editor, is not yet available for the iPhone. But that's more of an observation than a complaint. Fact is, apart from some quibbles and a few trade offs, WritePad Pro is a very fine personal organizational tool.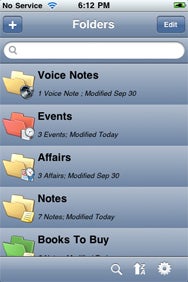 As a word processor, WritePad compares more than favorably to Documents 2 (and, really, how could it not?) and gives Documents To Go a run for its money. The app's powerful spellchecker will offer up to three suggestions on the fly. As note-taking apps go, WritePad Pro has a couple of disadvantages when compared to simpler and less expensive note apps. But when you consider that WritePad Pro also works as a calendar, an organizer and a recorder, incorporating sound, images, and your handheld's geolocation feature, the drawbacks recede a bit.
WritePad Pro's interface isn't as intuitive as you might expect, but the app comes loaded with documentation and easy-to-follow tutorials. For example, it isn't obvious at first that you can create custom folders, or that you can group tasks, or make certain notes private. Extensive customization is part of WritePad Pro's allure. But customization has its limits.
WritePad Pro can help keep track of your schedule, remind you of an upcoming event—or, because of a quirk in the interface, remind you after the fact—and let you record any thought off the top of your head. But for some reason, it won't let you create a note with an embedded image. That's a drawback. Some people use note programs for rather esoteric purposes. I go into bookstores and browse for books I might someday like to buy. Typically, I will use Sophiacom's YouNote to take a picture of book cover and type in title, author, publisher, and price and location information. ( Readdle's Take A Note also serves this purpose, although I don't use it as often anymore.)
You can include photos in calendar events, however. WritePad Pro's other note-taking and organizational tools are fine, too, although you might find yourself wishing the app would do more here and less there. For example, WritePad's Affairs is a hopped-up to-do list. You can import tasks and calendar information from Microsoft Outlook and PhatNotes. You can also sort tasks by deadline, jobs completed versus jobs pending, priority, and percentage finished—all vital elements for keeping on top of your work. But WritePad should consider taking a note from timekeeping applications that let users keep track of their billable hours and minutes.
The app's voice recorder is good, not great. The recording starts when you tap the button to create a new voice note, and it isn't easy to attach a title to the file. It might be better if you could press record first, and then be prompted for a file name.
WritePad lets you set reminders for your affairs and events, but requires a Wi-Fi, 3G, or EDGE connection to create and save your notices to PhatWare's remote server. If for some reason you don't have a connection, don't be surprised if you aren't reminded of an important meeting or deadline.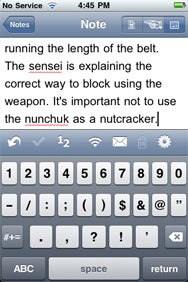 Handwriting recognition is a selling point of WritePad Pro. The developer actually calls it "advanced handwriting recognition," but it works about as well as your garden-variety handwriting recognition: poorly and intermittently. On a lark, I decided to write out a typical grocery store list: milk, half and half, yogurt, spinach, carrots, cookies, and rum. (And that's just for breakfast!) The app rendered the words as: milk, naldtnf half, yo9uft, spinack, carrots, cooties, and rum. (Hmmmm… Cooties and Rum would be an excellent name for a band, or the title of the fourth volume of my memoirs.)
Now, it could be that my knack for writing legible words with the tip of my index finger on a 3.5-inch screen is not as advanced as yours. Or it could be that handwriting recognition still has a long way to go. In any event, the keyboard works just fine in portrait or landscape modes.
My final complaint about WritePad Pro is the way the app exports notes. Unlike other apps, which give you a choice among text, HTML or some spreadsheet format, your only option is CSV. I understand why: WritePad Pro is all about data fields, and CSV is compatible with Microsoft Outlook. But more options would be nice, especially for those of us who aren't Outlook fans.
But although that appears to be a lengthy list of complaints, the truth is those are minor quibbles about what is a truly powerful and feature-rich application.
[Ben Boychuk is a columnist and freelance writer in Rialto, Calif. Feel free to e-mail him.]