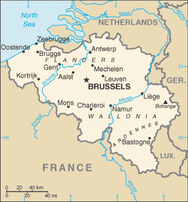 Antwerp, Belgium is well known as one of the diamond capitals of the world (host to at least one major heist in the past decade). But the latest place in the city to be pilfered wasn't a vault full of gems, but a warehouse full of iPhones.
According to Fortune, which rounded up the reports from the Belgian press, the heist saw between 3,000 and 4,000 iPhones disappear into the night. They were removed via a hole in the roof, conveniently cut right above where the iPhones were stored—it's little surprise, then, that the police have fingered it for an inside job. The phones were being stored in the warehouse, which was owned by transport company Ceva Logistics, and were destined for Apple's Belgian wireless partner Mobistar.
Apparently, Mobistar was running a little short on iPhone supply for the holiday season—perhaps suggesting one reason that the thieves targeted them. In addition, Belgian iPhones are SIM-unlocked, meaning they could be sold elsewhere for use on other networks. However, Mobistar has already blocked the serial numbers of the stolen phones from use on its own network.
At a value of around $3 million, the iPhones certainly make a tempting target, but personally, I'd never advise stealing anything with a GPS chip in it. But of course the real mistake was committing the theft in Belgium, because as soon as the cops call in Hercule Poirot, this whole thing is over.