At a Glance
Expert's Rating
Pros
Provides both pen and multi-touch input
1,024 levels of pen sensitivity
Well-designed
Pen doesn't require batteries
Solid software bundle
Cons
Doesn't include Corel Painter Essentials
Smaller surface than Bamboo Fun
No mouse
Our Verdict
For years, Wacom's graphics tablets have let digital artists and others dispense with a mouse in favor of an intuitive, precise pen. Now the company's newly refreshed line of Bamboo pen tablets also work with the most natural pointing devices of all: your fingers.
I tried the Bamboo Fun and the Bamboo Pen & Touch, two models which are similar except for size and software bundle. The larger, silver-colored Fun ($199) offers a pleasingly roomy pen area of 8.5-by-5.4 inches and comes with Adobe Photoshop Elements 6.0 ( ), Corel Painter Essentials 4.0 ( ), and Nik Color Efex Pro 3.0. The $99 black Pen & Touch work area is 5.8-by-3.6 inches and includes only Photoshop Elements and Nik Color Efex Pro. Both models, which connect to your Mac via USB, can function like giant multitouch laptop touchpads. Pressing one finger to the tablet lets you move the mouse cursor around, and you use two fingers to perform gestures for tasks such as scrolling, zooming in and out, and moving backwards and forwards in Web browsers, image editors, and other applications.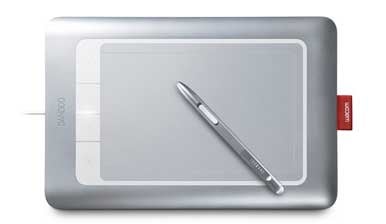 Touching your way around your programs is fun and fluid, and the gestures worked well in my tests. Both tablets can be used comfortably by righties or lefties. The nine key gestures are: Navigate, Click, Double-Click, Right-Click, Forward & Back, Scroll, Select & Drag, Rotate, and Zoom. However, I didn't find the substitutes offered for clicking mouse buttons—tapping the tablet or using oversized buttons on the tablet's edge, for example—to be as efficient as, well, simply clicking a mouse button.
Earlier Bamboos came with wireless mice that used the tablet as a mousepad, and I think many folks who use and like the new models will still want to keep a mouse handy as well. On the plus side, the tablets' four buttons—called ExpressKeys—are totally customizable: You can not only swap the left- and right-click controls but you can program the buttons to perform keystrokes or launch applications of your choice.
The Bamboos' pen input remains an unbeatable option for graphical work such as drawing, painting, and photo retouching. The included pens now boast 1,024 levels of pressure sensitivity. That's double the sensitivity of earlier models, and valuable for creating subtle effects in the bundled apps and other software that supports pressure sensitivity.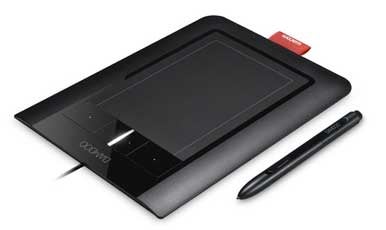 Wacom offers three other Bamboo models, all with the Pen & Touch's smaller surface: The $69 Bamboo Pen and Bamboo Touch are pen-only and touch-only respectively, and the $129 Bamboo Craft includes Photoshop Elements, Painter Essentials, Nik Color Efex Pro, and scrapbooking tutorial videos.
Macworld's buying advice
If your budget allows, spring for the Bamboo Fun—it may be the priciest Bamboo, but it's also got the most real estate, and it's the slickest, most full-featured consumer graphics tablet that Wacom or anyone else has offered to date.
[Harry McCracken is the founder and editor of Technologizer .]