It's happened to the best of us: a hard drive crash takes our precious iTunes library down to Davy Jones' Locker, and we either don't have backups, or our backups are corrupted or out of date. If those files are on your iPod, however, you can restore them to your computer—with a little bit of work.
I'm so obsessive about my music collection that I keep two backups of my music, because Kirk's First Rule of Computing is that you will, one day, lose your files. But let's say something happens to your backups and you can't get your music files restored. Apple doesn't provide any way for you to copy files from your iPod back to your Mac. While there are legitimate reasons for blocking bi-directional copying—it would be simple to dump your entire music collection on a friend's computer, for example—there are also good reasons why you might need to do so.
A friend of mine e-mailed me the other day asking how he could recover files from his iPod. There are several ways and utilities to help you, but let's start with the easy and free way.
First, connect the iPod to your Mac; as soon as you do so, hold down the Command and Option keys, which will tell iTunes not to sync to your iPod. You'll then see the iPod (but not iPhone or iPod touch) show up in the Finder sidebar. If you click it, to see its contents, you'll see four folders by default: Calendars, Contacts, Notes and Recordings. But what you won't see are any of the music files stored on your iPod; that's because Apple has hidden them. You'll need a way to display these hidden files in the Finder. If you're comfortable using Terminal, you can run this command:
defaults write com.apple.Finder AppleShowAllFiles YES
Then hold down the Option key, click and hold the Finder icon in the Dock, and choose Relaunch. The Finder will quit, then restart and display invisible files. (After you're all done, repeat the above Terminal command but replace YES with NO.)
If Terminal's not your thing you can use a free utility such as Onyx to simplify this change in visibility. Click Parameters, then Finder, then check Show Hidden Files And Folders.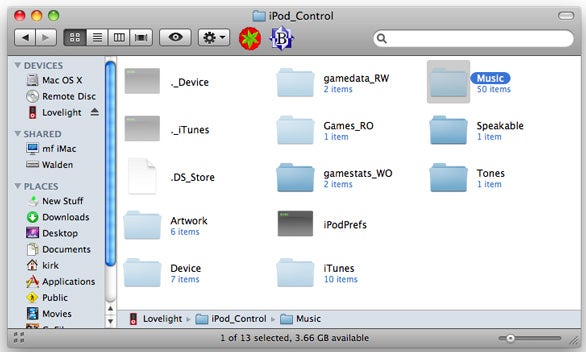 When you look at the contents of the iPod now, with hidden files displayed, you'll see a folder called iPod_Control. Inside this folder are a number of sub-folders; double-click the Music folder to see more folders containing your music files. They are numbered from F00 to F50, and each one contains a number of music files. Look inside one of these folders; you'll see cryptic names like "ACXD.m4a". In other words, your music files don't retain their original names; just another way to hide them from you.
If you've lost all your music, you can simply select all these folders (or the Music folder that contains them), and drag them into iTunes to copy all the files from your iPod back into iTunes. Your files will retain all of their tag information, but you won't have your playlists.
If you've only lost some of your music, your best bet is to create a new playlist, then drag the music folders to that playlist. You'll have to sort out which files are duplicates (you can select Library in the sidebar, then choose File -> Show Duplicates to find out), and delete the extras. There are also a bunch of utilities that can help you deal with dupes.
There are some limits to the above trickery, however. First, you can't use this technique with an iPhone or iPod touch; they don't show up in the Finder. Second, you can't pick and choose what you want to copy, and you can only copy music files, not playlists.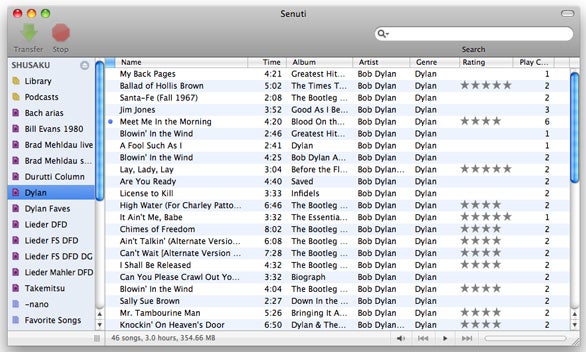 To get around this, there are a number of utilities that can help, such as Findley Designs' $20 iPod Access, KennettNet Software's £10 Music Rescue, The Little App Factory's $20 iPodRip, Sci-Fi Hi-Fi's $8 PodWorks, or FadingRed's $18 Senuti(many of these utilities also work on Windows PCs). Most apps look at the contents of your iPod—even an iPod touch or iPhone—and compares it with your iTunes library. They shows which tracks are not in the iTunes library, and let you copy the ones you want back to your Mac.
[Senior contributor Kirk McElhearn writes about more than just Macs on his blog Kirkville.]