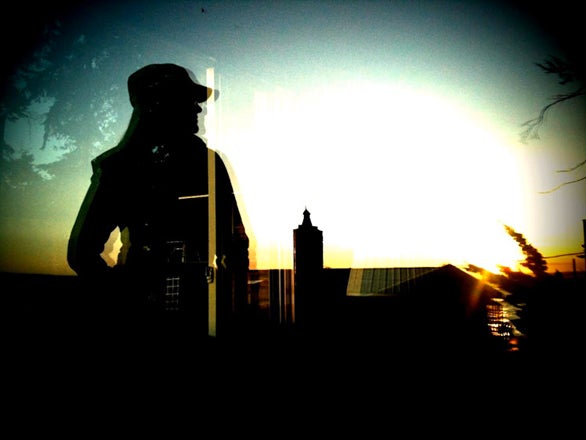 Chase Jarvis has a lot of very expensive camera equipment, his own photo studio, and years of experience as a professional advertising photographer. His current camera of choice? An iPhone.
Before this shot was taken, Chase and his wife Kate were enjoying a glass of wine on the deck of a beachside cabin, watching the sunset. When she stood up he saw her reflection in the window and instinctively reached for his iPhone.
"My iPhone just happens to be sitting in my lap, so I hold up the camera, say 'hang on a second hon,' and snap this picture. It's her profile, the sunset, the trees, and how you can sort of see inside the cabin in this weird mystical way—if you look you can even see the 70s lampshades and wood paneling."
Pictures like this inspired Chase to be one of the most vocal proponents of camera phone photography. He has developed a brand that includes an active online community, a book of his iPhone photos, and a photography app, all based on the idea that the best camera is the one that's with you. The iPhone's low-tech camera excels at capturing fleeting and random moments, just by virtue of being the camera you're most likely to have in your pocket, bag, or hand.
The popularity of iPhone photography may have started with convenience, but it's been amplified by the diverse collection of editing, filter, and special effect photography apps available in the App Store. These Apps add another, easy level of creativity to the iPhone photography process. For this image, Chase added three filters in his Best Camera app: darken, candy, and vignette.
To an experienced photographer like Chase, another allure of iPhone photography is that it's refreshingly pure. "It's not about pixels and high dynamic range," he says. "With the iPhone there are no art directors, no lights, no crew. It takes me away from all the typical photography trappings. That really does inform the rest of my work."
Today, almost half of all cell phones have a camera, and it's quickly democratizing photography. Suddenly, anyone has the potential to be creative and take pictures, and that's what gets Chase the most excited.
"My mom is sending me iPhone pictures now. That is dope."
Want to submit your own photo to our Snapshot series? Send the photo (or a link to the photo) and a description of how you got the shot to digitalphoto@macworld.com. Include the text "Snapshot" in the subject line. We'll pick our favorites and feature them on our Website. Chosen photographers will receive a free printed copy of our Digital Photography Superguide.