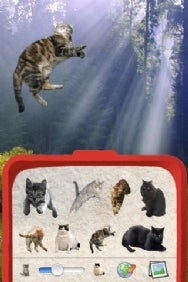 Are your photographs suffering from a decided feline shortage? There's a cat for that.
Davander Mobile has launched CatPaint, an app that lets you add cuteness—in feline form—to any photo on your iPhone or iPod touch. You grab a photo, choose a kitten, and then tap to place it anywhere within the image.
No iPhone cat-drawing app would be complete without accelerometer support; CatPaint lets you shake the phone gently to erase the last cat added, or shake violently to remove all the cats you've superimposed. (Warning: Do not shake your actual cat.)
CatPaint lets you e-mail your be-kittened masterpieces to your soon-to-be-ex-friends, or just save them to your camera roll in private shame. The app costs $1, and is available now in the App Store; it works with any iPhone or iPod touch running iPhone OS 3.1.2 or later.
Update: As a show of our dedication, the Macworld staff has subjected the app to intense scrutiny to determine if it lives up to its promise of cats in your photos. The full results of our in-depth tests are now available.—Dan Moren
Note: When you purchase something after clicking links in our articles, we may earn a small commission. Read our affiliate link policy for more details.
Lex is a former writer for Macworld. He lives in New Jersey with his wife and three kids.