Editor's Note: The following article is reprinted from Network World.
In a move that is sure to make playboys everywhere nervous, Internet company PeopleFinders has created two iPhone applications that let users perform background checks on their potential dates.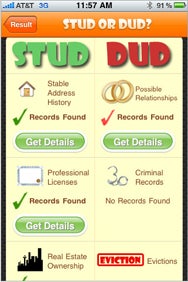 The apps, known as Stud or Dud? and Are They Really Single, utilize data culled from countless public records to give users a more complete picture of whom they're going out with. PeopleFinders President and COO Bryce Lane says his company collects data from "thousands of sources" across the country from "federal governments to the very smallest city governments." He says the company then uses algorithms to sort through the data and make comprehensive files that will give users a reliable picture of who the person is.
From there, the data is placed in PeopleFinders' database and is put up for sale. While both of the applications the company debuted today cost a mere $1 to download, users can only access records by either paying $9.95 per record or by paying an annual subscription fee of $24.95. In the case of Stud or Dud? users have the option of using simply by a person's first and last name, by their age and hometown, or by their phone number. From there, the program gives you a list of potential matches to choose from.
Once the user thinks they've found their match, they can then access all of PeopleFinders' records on them and learn whether they own property, whether they have a stable address history, whether they've ever gone bankrupt, whether they're married or are in a possible relationship and whether they have a criminal background or are registered as a sex offender. Lane cautions, however, that the program cannot guarantee 100-percent that all of its information is accurate, especially in cases where the person you're searching for has a relatively common name. Lane says that like any search engine, Stud or Dud? will work better the more information you put into it.
If Stud or Dud? is meant to be a comprehensive background check, the Are They Really Single app is more tailored to answering the specific question of whether someone is either married or potentially in a long-term relationship. It could surely make those with philandering lifestyles like that of Mad Men's Don Draper more than a tad nervous. Much like Stud or Dud? the app combs through thousands of marriage records, divorce records, common addresses and wedding dates to provide users with information about whether the person they're seeing is really single.
Lane says PeopleFinders decided to debut this application on the iPhone because it was the most popular consumer-focused device on the market and because the App Store had the greatest reach of any other application market. If the application is successful in its iPhone incarnation, he says the company will explore bringing it to other mobile operating systems, such as BlackBerry or Palm's webOS.
When asked about privacy issues PeopleFinders' two apps could raise, Lane says the company will take anyone out of its databases who requests to be deleted. However, he says people should be aware that this information is all public and that anyone can find it if they're really determined.
"We take people out if they request it but we really do acquire our data from purely public places," he says. "The population that calls us the most are usually the criminals who want to hide fact that they've murdered someone or something."