There are plenty of themes built into iWeb '09 (28 to be exact), but eventually you may want more choices for your various Web sites. Themes are stylized page templates with coordinated designs that let non-designers create professional-looking Web sites in a jiffy. Trouble is, while iWeb's tools let you tweak a theme's appearance, the process can be time-consuming and labor intensive, and many themes are tricky to edit.
Fortunately, designers have come up with alternative themes and have made them available for sale. Once purchased and installed—some are even free of charge—they appear in iWeb's theme menu alongside Apple's built-in layouts. They offer new designs, drop-zones, and even additional template pages. Here's a brief guide to help you easily find new themes for iWeb.
iPresentee offers more than 50 themes designed for casual and business use. Some sport garish colors or lackluster designs, but with so many to choose from, there's something here for everyone. Themes include extra template pages like "My Hobbies" and "News" plus a handful sport Flash-animated title bars. Flash site-welcome movies and animated GIF clip art are available separately. One of iPresentee's better-looking themes, Treasure, is available for free.
Prices: Individual themes, $10; preset bundles of five, $25 (business theme bundles, $30); individual Flash welcome movies, $10; preset bundles of five Flash welcome movies, $30. A bundle containing dozens of themes, animations, and more is available for $60.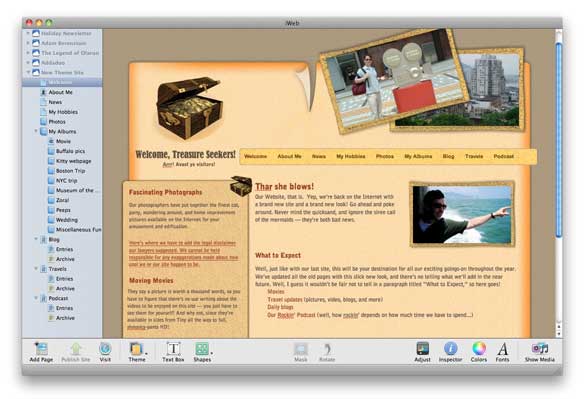 11Mystics.com offers only 11 themes, but most sport harmonious colors and attractive, balanced layouts. The best of them could have come from iWeb's own designers. Many themes come with extra clip art to customize your pages, and a few are available in multiple color schemes.
Prices: Individual themes, $11 to $20. Variations on some themes are also sold in bundles for $50.
Miamiou 's 21 themes look rather bland and understated. However, their subtlety may appeal to people with a taste for moody looking grayscale. Plus, a few do incorporate more vivid colors. Regardless, you can be sure that these themes will not clash with your content and are the opposite of cutesy. One theme, Bergman, is available for free, but consistently low-key designs and the inability to buy themes individually weaken this site.
Prices: Preset bundles of two and three, $15; a preset pack of 20 themes is available for $52. (Prices are Euro equivalents and will vary.)
Jumsoft also offers 21 themes, and many are as appealing as the best of iWeb's built-in layouts. Some themes are boxy and simplistic, but a hip art style sets even these designs a cut above the rest.
Prices: Individual themes, $13; a bundle that includes all themes is $70.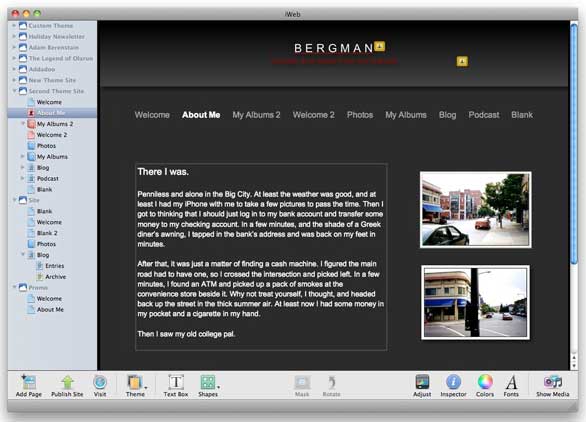 While there aren't a huge number of iWeb theme choices, a couple of examples stand out. The Circles theme from Themes for iWeb is quite appealing and also free. The site iWebTemplate offers a host of templates from all of the above vendors on its site.
[Adam Berenstain is a freelance writer in upstate New York.]