Quip, a $1 app from Addy Mobile, aims to let you send photos to your friends' cell phones without counting against your MMS quota. Once you've purchased the app, you can send any number of free photo texts to any phone.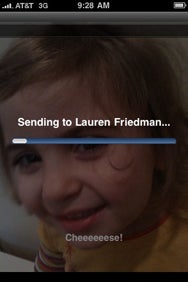 When you launch Quip, it immediately thrusts you into your iPhone's camera mode to snap a photo. You can also choose an existing photo from your library. Oddly, though, Quip only supports the iPhone—the app is not available for iPod touch users, who could theoretically be ideal customers for sending photos from their libraries, since they can't utilize MMS at all.
Once you've taken a picture, you're presented with a stylized version of the iPhone address book to choose your recipient. For some reason, Quip bizarrely tweaks the column of letters along the right side of your contacts, the one you can use to jump quickly to last names starting with a specific letter. Instead of showing all the letters, Quip shows bullets in between each, like "A • C • E." It's a weird choice, and one that's especially frustrating when you're quickly scanning for a letter that's not there.
After you select a (single) recipient for your picture message, you can optionally add some text. Here, unfortunately, you'll encounter another strange choice: Auto-correction isn't enabled as you compose, making tapping out your message more challenging than it needs to be. As it turns out, your text is actually added to the image itself, rather than sent separately. (Even more strangely, when you're typing in your name and phone number for the first time, so that Quip can tell your friends who's texting them, auto-correction is enabled.)
When you do send the message, good luck. In my testing, I was occasionally told that there was a problem sending the message, when in fact it had gone through. The messages you send are treated as regular texts, and your friends will need to be able to view the link within the text in a browser to see your photo. If your friends also use iPhones, and also install Quip, they can get push notifications of new images you send, instead of receiving them as texts. The texts Quip sends don't count as SMS messages either; behind-the-scenes, they're really e-mailed to an address linked to your recipient's mobile number. (Quip does the grunt work of figuring out your friend's provider, and thus what their mobile e-mail address is, all on its own.)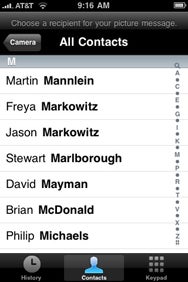 I could find no way within Quip to save images that were sent to me, other than taking a screenshot. Any text that was attached to the image, of course, is saved with it.
At a basic level, Quip works, in that it does send text messages with links to photos. But there are many weaknesses here: I have plenty of friends whose phones don't have Web access, but who could receive MMS messages. Sending them photos with Quip is useless, since they can't click the links to see the images. I appreciate the goal of saving me and my pals the cost of delivering MMS messages, but when an app is attempting to recreate a native iPhone experience, it should hew a bit closer to the original. The re-invented address book interface, missing auto-correction as you compose your message, and purported errors on successful message sending all belie a lack of attention to detail. While this app works, it's a chore to use, particularly when compared to the built-in Messages app.
I could go a bit easier on Quip if it were supported for the iPod touch crowd, offering functionality that they couldn't get to any other way. But as an iPhone-only app, Quip just doesn't fare well.
[ Lex Friedman is a frequent Macworld contributor.]