Accessory vendor Incase has released two new chargers for iPods and iPhones. The $40 Combo Charger is an update to the company's 2-in-1 Wall & Car Charger, and features a 12V plug (for car accessory jacks) on one end and a fold-away wall-outlet plug at the other. The Combo Charger is compatible with international voltages, requiring only a plug adapter to be used outside the U.S. Unlike the 2-in-1 Wall & Car Charger, which sported a permanently attached dock-connector cable, the new Combo Charger provides two USB-power jacks; you can power and charge both an iPod or iPhone (using the included USB dock-connector cable) and another USB-power device.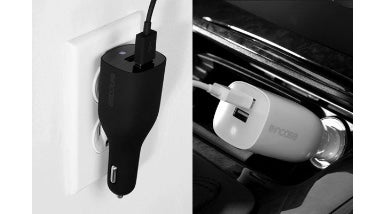 The $30 Car Charger is similar to the Combo Charger but connects only to an automobile accessory jack. Like the Combo Charger, the Car Charger provides power via two USB jacks.
Both accessories support quick-charge mode, include an LED power indicator, and are Made for iPod- and Works with iPhone-certified. Each charger is available now, in either black or white, at Apple online and retail stores and goincase.com.