At a Glance
Expert's Rating
Pros
Stylish and slim design
Good feature set for the price
Cons
Touch interface is slow
Small, low-res display
Our Verdict
The inexpensive T-Mobile Tap, designed by Huawei, is a stylish touch phone targeted toward tweens. While the Tap has a solid suite of communication and multimedia features, the slow interface and cramped touch keyboard keep it from being the ultimate messaging phone.
The compact Tap measures 4.2 by 2.2 by 0.5 inches thick and weighs a feather-light 3.7 ounces. Although the face of the phone is plastic, its backing is rubberized, and it feels very comfortable in the hand. Two hardware buttons (Talk, End) and a four-way directional pad with an "OK" key lie below the Tap's display. The right spine houses a dedicated camera key, a screen-lock key, and the volume rocker. On top are the power key and a mini-USB charging port/headphone jack. Unfortunately, the phone has no standard 3.5mm headphone jack.
A 2.8-inch 240-by-320-pixel touchscreen dominates the face of the phone. Though the screen is pretty low-res, the icons are large enough and clear enough to decipher, and text is still readable. The Tap's display is on the smaller side for a full touch phone (the average size of feature phone displays seems to be about 3 inches). While a 2.8-inch display is fine for messaging, I found it too small for playing back video and reading Web pages.
In my hands-on tests, I found that I had to press really hard on the Tap's plastic display to scroll through my contacts or flick through my images. The Tap supports haptic feedback, so when you press an icon or key and it registers with the phone, you receive a light vibrating sensation. This is a nice feature to have, since the Tap is fairly sluggish in responding to touch—particularly in keyboard mode. I noticed some lag between pressing a letter and seeing it appear on the screen. The haptic feedback gives you the feeling that something is happening when you hit a key—even if its letter takes a while to appear.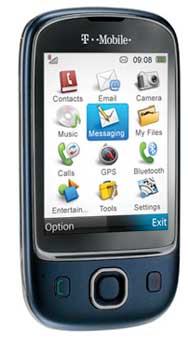 You can use the touch keyboard in either portrait or landscape mode. If you're planning on doing a lot of texting, you'll mostly use it in the latter orientation, as the portrait-oriented keyboard can be frustrating to use. Each key is assigned multiple letters, so you have to tap until you get the right letter; even with predictive-text capability, this method can get tedious. Landscape mode is more like the touch keyboards we've grown accustomed to, but it still feels a bit cramped when typing long messages.
Call quality over T-Mobile's 3G Network was good overall. My contacts sounded loud and clear, and I heard no static or interference. Parties on the other end heard some background noise, but otherwise the sound quality was clean.
The Tap's widget-based user interface gives it the feel of a higher-end feature or a smartphone. Along the bottom of your homescreen are four self-explanatory shortcuts: Dialer, Contacts, Web, and Menu. A bar that runs along the right side of the screen contains 18 widgets (Google Search, Weather, Photos, and so on) that can be dragged onto the homescreen. This customizability, while simplistic, gives the Tap a smartphone-like look and feel.
To set up your Web-based e-mail account on the Tap, you just enter your account name and password, and you're all set. The Tap also supports MMS (for sending pictures and video) and SMS. For instant messaging, the Tap comes preloaded with the Nimbuzz all-in-one messaging client, which includes support for AIM, Skype, Windows Live Messenger, Yahoo Messenger, GoogleTalk, and many other chat accounts.
For Web surfing, you get access through T-Mobile's web2go program—which, to be blunt, is clunky and can be awkward to navigate. The text is small and difficult to read, and there's something very archaic about the whole interface. You also have to rely on T-Mobile's 3G network, as there is no Wi-Fi support on the Tap.
The music player is simple: You can create playlists and do playback in shuffle and repeat modes, but you'll have no album art display. The Tap supports a nice range of audio files—MP3, AAC, AAC+, eAAC+, MIDI, WAV, and MPEG4. Sound piped through the included headphones was decent, though a bit hollow. Unfortunately, you can't swap out the packaged headphones for your own, as the Tap has a proprietary mini-USB jack rather than the standard 3.5mm jack. If you get tired of your own collection, you can switch to the built-in FM radio.
The 2-megapixel shooter produced better photos than I expected. Colors were a bit washed out and details a little blurry, but overall they were pretty good for a camera with a low megapixel count and no flash. While in shooting mode, you can adjust white balance, set the scene (night or day) and switch the shooting mode (normal, black and white, or sepia tones).
While the Tap is aimed at tweens, I'm not sure if they will have the patience for using the Tap—especially if they're frequent text messagers. The keyboard can be frustrating to use, and while the interface is both easy to navigate and nice-looking, it can be quite sluggish. The Tap does have a good feature set for the price, however, and the camera works better than expected.
[Ginny Mies is an assistant editor for PC World.]