SubRosaSoft has released FileSalvage 7, an update to its data recovery software. The latest release offers Snow Leopard support and enables better recovery for flash-memory cards and Windows drives. SubRosaSoft gave FileSalvage's user interface a facelift, too.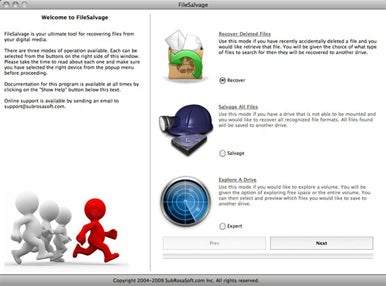 We've all encountered that pit-in-the-stomach feeling of discovering that a really important file is truly gone—not just in the trash, but seemingly gone forever. FileSalvage gives you the tools to try to bring that file back from the dead. The software walks you through three steps to locate and recover data from almost any media or drive, and will even offer you a shot at retrieving data from a faulty drive. What the software can't do is restore files that have been overwritten by new data; n that case, you're out-of-luck. All your resurrected files are saved to an external or networked drive, so you'll need something other than your hard drive to perform the recovery.
SubRosaSoft's Website includes detailed documentation (though it's not easy to navigate), and the company offers free technical support via e-mail.
FileSalvage 7 requires Mac OS X 10.4 or above. It is available to new users for $90 (if you want the CD), or $80 if you're willing to download the 27 MB file. Version 6 users can download the latest update for free. Users of prior versions can get the CD upgrade for $40 ($30 for the download).