Getting the most out of the limited iPhone camera is one of the hurdles facing iPhone owners, and the sheer volume of camera apps in the App Store can be overwhelming. Snapture, from Snapture Labs, should be one of the first apps you download to get your iPhone camera up and shooting like a pro.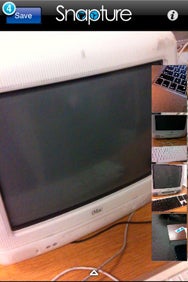 For starters, Snapture makes the entire screen of the phone the shutter button. This is handy in a lot of situations, such as taking that sharp self portrait while parasailing. This feature cannot be turned off, though, so there is the chance of an embarrassing accidental snap.
Small thumbnails of your pictures appear in the lower corner of the screen after each shot, allowing a quick look at your results. Tap these thumbnails to expand and see up to four of them, and swipe them to speedily delete or e-mail. With Snapture, there's no need to go into another app to send out your latest pics.
The camera is fast under Snapture, allowing three shots to be fired off with a one touch setting; I actually got 4 or 5 images very quickly just by pressing the screen repeatedly. A zoom feature is also provided, although like other iPhone zooms, it does not produce the greatest quality images. One feature of Snapture I have not seen in other apps is the Touch Zone effect, which takes the picture when you remove your finger from the screen. I found this to be a great way to take pictures and limit camera shake.
Snapture looks to be a one-stop solution for many of the shortfalls of the iPhone camera, and it does an admirable job. It's the first camera substitution app I have found myself going to regularly instead of the built-in camera.
[ Jeff Phillips is an educator, photographer and technology advocate. Find him on his blog or podcast.]