If you're looking for a premium set of over-the-ear headphones, then Apple's AirPods Max are the ones that have probably have been at the top of your list. They're beautifully designed and have great sound, but cost a small fortune. Now, Beats (also made by Apple) has released its new Studio Pro headphones, which have plenty of the same features, but at a significantly lower price. so, which one should you spend your money on?
At a glance
Our Verdict
The AirPods Max are elegant with incredible audio, but at $549 it's hard to recommend them over the Beats Studio Pro, which offer similar sound, a nice design, and lossless audio for $349.
Price When Reviewed
Apple AirPods Max: $549
Beats Studio Pro: $349.99
Best Prices Today: Apple AirPods Max
Beats Studio Pro vs AirPods Max: At a glance
Before we delve into the pros and cons of the headphones, here's a quick summary of their specs so you know how they compare:
| | | |
| --- | --- | --- |
| | Beats Studio Pro | AirPods Max |
| Drivers | 40mm | 40mm |
| Bluetooth version | 5.3 | 5.0 |
| ANC | Yes | Yes |
| Transparency mode | Yes | Yes |
| Spatial Audio | Yes | Yes |
| Lossless Audio | Yes | No |
| Siri Support | Yes | Yes |
| One Touch Pairing | Yes | Yes |
| Ear Detection | No | Yes |
| Handoff To Apple Watch | Yes | Yes |
| Find My Support | Yes | Yes |
| Battery Life | Up to 24 hours (ANC on) | Up to 20 hours (ANC on) |
| Charging Port | USB-C | Lightning |
| 3.5mm Headphone Port | Yes | No (Optional adapter) |
| Dimensions | 178 x 181 x 78mm | 187 x 169 x 83mm |
| Weight | 260g | 385g |
| Price | $349/£349 | $549/£549 |
Beats Studio Pro vs AirPods Max: Design
The Beats Studio Pro keep with the aesthetic and construction that has made the brand instantly recognizable, such as with the Beats Studio 3 headphones. You get a full plastic molded frame with the famous "b" logo on each earpiece, plus some cleverly integrated controls. Tap the "b" on the left earpiece and you can play/pause your audio while tapping above the logo increases volume and below it reduces the level. The right earpiece has a solitary button that can be used to power the headphones on/off, switch between sound modes, or put them in pairing mode.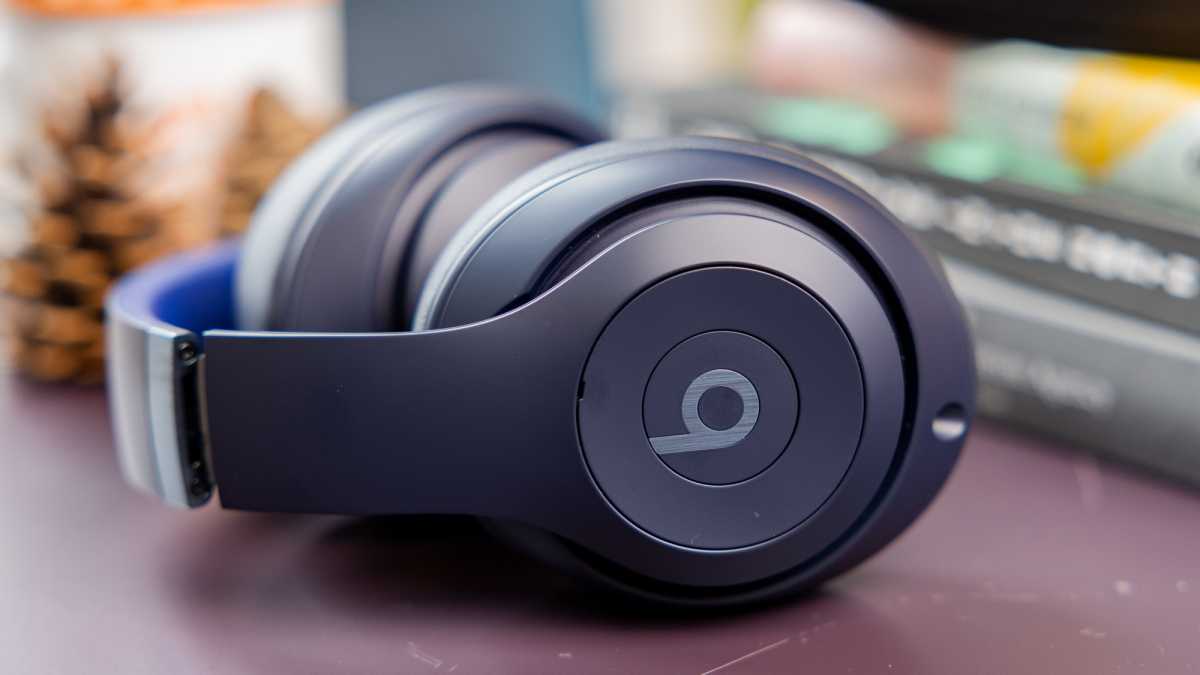 Dominik Tomaszewski / Foundry
Leather earcups make the Beats Studio Pro comfortable to wear for long music sessions, aided by the headphones' lightweight, especially when compared to AirPods Max.
Beats Studio Pro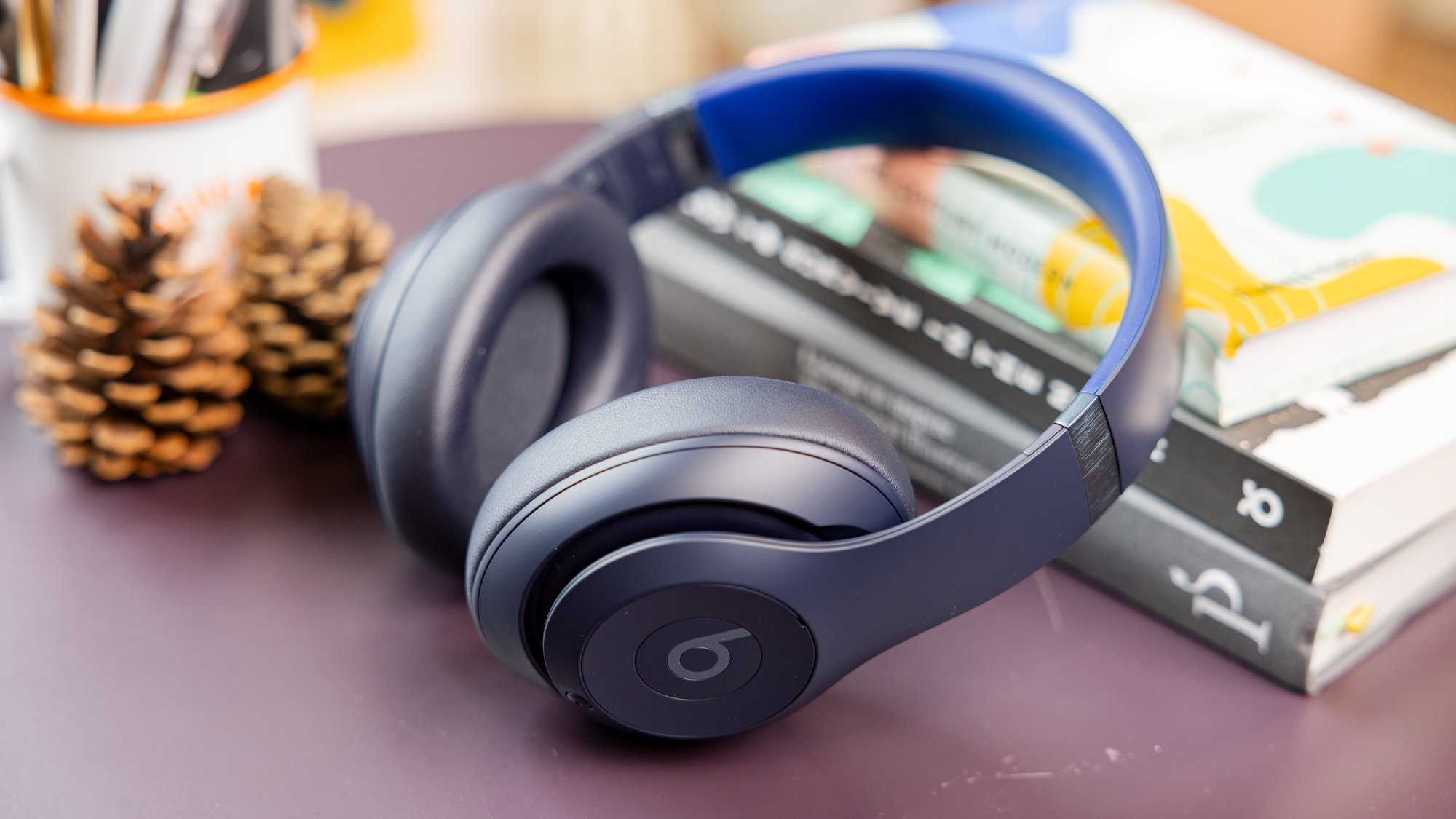 Price When Reviewed:
$349.99
Apple's premium offering takes a different approach, opting for an aluminum casing on the earpieces and stainless steel rods (shrouded in rubber) for the headband. The ear cushions also have a more premium feel due to their soft, deep, breathable coverings. These are replaceable if they wear out, but it will set you back a rather overpriced $69/£69 per pair. Controls are kept to a minimum, with the right earpiece home to a button for switching between sound modes, plus a digital crown similar to that on the Apple Watch that can be used to adjust volume, playback, and summon Siri.
Foundry
All of this premium material does add significantly to the weight though, with the Apple variant weighing in at 385g while the Beats Pro keep things to a lighter 260g.
Apple AirPods Max*
Price When Reviewed:
$549
Beats Studio Pro vs AirPods Max: Sound
As you'd expect of headphones at this price, both offer excellent audio quality and plenty of modes to tailor your listening experience. You'll find 40mm drivers in either model, aided by active noise cancellation, spatial audio, and support for Siri. Neither have a flat response as you'd find with studio-grade headphones; instead, they are both tweaked to give the sound profiles that the developers think will be most pleasing to users across a wide range of musical styles. Our own Jason Cross reviewed both headphones and had this to say about the mix on the Beats as they compared to Apple's offering: "The low end has as much clarity and punch as AirPods Max, but the high frequencies are noticeably crisper. I never thought snaps and hi-hats sounded muddy on AirPods Max, but putting them on directly after the Beats Studio Pro gives that impression."
Obviously, audio is a subjective thing, but it seems that the Beats don't have the heavy bass profile that could be somewhat overbearing at times. You should be quite sure though that either set of these headphones will deliver excellent performance whatever music you choose to indulge in.
If you prefer to bypass Bluetooth and go to the higher quality tones offered by a wired connection, then you can easily do so on the Beats Studio Pro as they feature a standard 3.5mm output jack. It's also possible on the AirPods Max, although you'll need to buy a Lightning to 3.5mm adapter, which costs around $35/£35. That's not ideal for a pair of $549 headphones, but at least the ANC features still work when you use its adapter, whereas the feature is disabled on the Beats Studio Pro when plugged in.
Beats Studio Pro vs AirPods Max: Active noise cancellation
When we reviewed AirPods Max in 2021, we praised the noise canceling as "perhaps the best [we've] ever heard." The transparency mode, in particular, was singled out, as the ambient noise that is mixed into the signal makes it so that "it's almost like not wearing headphones at all, except you can still hear your music." However, we were equally impressed by Beats Studio Pro's noise cancellation, so both devices should keep noises in your local environment at bay.
Beats Studio Pro vs AirPods Max: Spatial audio
Another feature shared across the platforms is Spatial Audio. This basically creates a 3D soundstage around you, using Dolby Atmos, which reacts as you move your head, giving you a deeper sense of immersion in the audio. Apple Music has an extensive library of spatial audio tracks, but other services such as Amazon Music also offer spatial audio tracks.
Foundry
Beats Studio Pro vs AirPods Max: Lossless audio
It might come as a surprise, but the AirPods Max don't support lossless audio even though Apple Music does, mainly due to the analog to digital conversions that are required due to the Lightning port as the only connector. If you want this premium audio feature, then you'll need to go to the Beats camp, as the Studio Pro can handle lossless audio up to 24-bit/48KHz out of the box thanks to its built-in DAC.
Beats Studio Pro vs AirPods Max: Value
This one isn't even close. Yes, the AirPods Max are premium in their materials and design, but the lack of a 3.5mm headphone jack, lossless audio support, not to mention a rather pathetic and ill-conceived carry-case that offers absolutely no protection, makes the $549/£549 price tag very hard to swallow. This is compounded by the fact that the Beats Studio Pro offer comparable sound quality, plus the addition of a wired connection, lossless audio capabilities, and a much better case for $200/£200 less.
Dominik Tomaszewski / Foundry
Beats Studio Pro vs AirPods Max: Which one should you buy?
Make no mistake, the AirPods Max are gorgeous, comfortable, and sound great. If you want Apple quality and styling then these are the way to go. But, you shouldn't. The Beats Studio Pro offer much of the performance you'll get with the AirPods Max, but also have a newer Bluetooth standard (5.3 as opposed to 5.0), a 3.5mm headphone jack for convenience, plus a price tag to is substantially lower. Don't get blinded by the Apple aura, in this shootout the Beats model is clearly the better choice.
For more advice read our comparison of AirPods Max and other over-ear headphones, we also have news about the next generation of AirPods, and if you want to save money read our round up of the best AirPods deals.
Best Prices Today: Apple AirPods Max