Brutally hard gameplay. Unforgiving foes. Fun, right? That's the legacy of Capcom's classic Ghosts 'n Goblins series. The latest sequel, Ghosts 'n Goblins: Gold Knights, is the first to grace the iPhone platform. Depending upon how you rate yourself on the gamer scale (n00b to g4m3zmast3r97) will gauge how much you'll like GnG: Gold Knights. Me? I find it a valiant, but flawed, effort.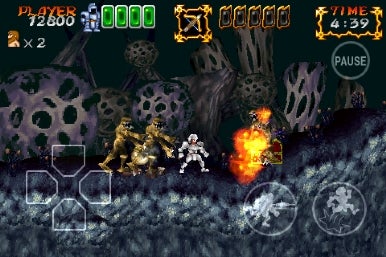 Let me explain how the game works: You're a knight, Arthur or Lancelot, running from the left to the right, jumping and slicing up demons to save the day. Arthur has a little more in the ways of armor while Lanceleot has a slightly different arsenal. Classic stuff! Maybe it's the nostalgia talking, but they did a good job of capturing the flare of the original games. The creepy zombies, the lantern lighting, the fire demons… it's all here. The moody music is true to the source material as well, but when you get down to playing, the graphic style had me conflicted. The lush backgrounds look great but the oddly animated characters in the foreground looked off–like I was controlling a paper doll. Seeing the strange characters run around made me want to watch Youtube clips of the old NES version.
The biggest surprise, though: This game is difficult all right–but for all the wrong reasons. The virtual d-pad was too finicky and, quite frankly, my goony-sausage-stumps-for-fingers kept slipping and triggering the wrong action. Something simple like clambering up a ladder felt sticky to command. Often, side jumps became leaps of faith. In time it got a little more manageable, but no less frustrating. Otherwise, the game was actually fairly easy. Maybe a little too easy, in fact. In the original games, you got two hits: First your armor pops off and you fight in your skivvies. Second hit, your bleached bones fall to the ground. Here, you get four hits before your armor drops. It's almost like an apology from the developer, "Yeah, we know it's tough to control. So we'll just give you extra chances." With such a forgiving health system, you could probably beat this on a long bus ride or a plane flight. I almost did.
The bosses seem challenging at first look– but they follow a boilerplate pattern. If you watch how the bosses move, react and you will cruise through the levels in no time. As for the levels themselves, they look expectantly spooky, but sometimes you have to make these arbitrary leaps of faith off-screen. You'll have to die to learn where to land. At least some things haven't changed.
But for the less skilled (ahem), you can buy cheats. That's right, you can pay your way to victory with an in-game menu under "Customize." Want infinite lives? It'll cost you 99 cents. Want to make enemies weaker? That's another buck. How about juicing up Arthur or Lancelot's attack speed? You see where I'm going with this? Ghosts n' Goblins: Gold Knights is currently selling for $4.99. So if you buy all the extra buffs to the game, you're effectively doubling the price of the game.
What's sadder still is that the above-mentioned after-market mods are the only way you can really alter the difficulty. Unless you only want to play in your boxers (seriously, that's an option–"the boxer mode" allows you to streak through the game. But if you get hit once, you die.). If you ask me, this is a really bad portent of things to come. It's like crafting a push-pop burrito. Hear me out—sure, it makes life easier, but where's the challenge and sense of accomplishment in finishing without screwing up or spilling salsa over the place? But I digress.
At least they made one phone-friendly concession: Ghosts 'n Goblins saves which stage you've made it to when you're interrupted or quit— if you get a phone call, for example, you can start on the same level as you did before. It'd be nice to see the game save to a "pause" state, but I'll take what I can get. You know what else would be good? A screen flip option. Nothing's more annoying than when you're stretching to keep your hand near a virtual d-pad control (on the lower left side of the screen) but your headphone's plug keeps getting in the way! Gripes aside, the game isn't altogether bad, it just feels like a gimpy eulogy to days gone by. With a couple control patches, the overall experience could improve in a heartbeat.
[Contributing writer and former PC World editor Darren Gladstone often slays the undead in his underwear. Feel free to harrass him on Twitter (@gizmogladstone)]