Touch Pets Dogs is a beautiful, clever, Tamagotchi-style game for the iPhone era. The game is well-conceived, fun to play, and painfully cute. Unfortunately, the Touch Pets experience is marred by two brutal business decisions from developer Ngmoco.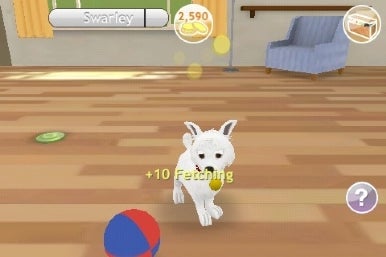 But first, the good news: Touch Pets is gorgeous. The animals are animated well and move gracefully. Interactions in the game are smartly implemented: You touch your dog to pet him, flick toys for him to fetch, and drag food bowls onto the floor as needed. You can also train your dog to do tricks, unlocking more complicated tricks as you progress in the game. The dog-care options are dense enough that the game sports a surprisingly lengthy and detailed tutorial to get you started. Certain necessary options of the game aren't exposed until you go through the tutorial screens, which can be confusing.
But sadly, Touch Pets isn't all biscuits and belly rubs. Your dog will get hungry—a lot. And doggone it, when a game charges you real-world dollars to get more food for your virtual pet, that's kind of obnoxious. Even more bizarrely, you can't buy the dog food via in-app purchases; you're forced to buy new versions of the game. The version with 400 bowls of food costs $30. If you don't want your dog to slowly starve to death, please note that the "free" price tag on the original Touch Dogs app isn't really free.
Also annoying is the fact that Touch Pets requires an Internet connection, for some odd reason. iPod touch owners will need to be in a Wi-Fi hotspot to play, and no matter which iPhone OS device you're using, you'll note that the constant net connection the game employs chews up your battery like a dog toy. I appreciate that Ngmoco should make money for its games, but I find this business model highly suspect. Requiring more money to keep your virtual pet alive seems like cruelty to virtual pets and humans alike.
[ Lex Friedman is a frequent contributor for Macworld.]