As a photographer, it's easy to get preoccupied with questions about gear. Do you have enough pixels? Do you need a better lens? While these concerns are warranted, there is something photographers need more than any piece of gear: good light.
The word photography literally means "writing with light," and the quality of your final product is very often determined solely by the quality of your light. Bad light can make an otherwise compelling photo far less interesting, while good light can transform a pedestrian scene into an beautiful study of texture and contrast. The ability to recognize and exploit good light is often what separates a strong photographer from a weak one.
Defining "good light"
So what makes some light good, and other light bad?
The angle In the early and later parts of the day, when the sun is not overhead, it casts longer, darker shadows. With this type of light, even tiny bumps and contours on a surface will be more visible. When the light yields more contrast, this means your scene will have more detail and texture.
Consider these photos of some silos. The top image was shot early in the day, when the sun was almost straight overhead. The bottom image was shot later in the afternoon, when the sun was much lower. The resulting shadows create a more dramatic shot.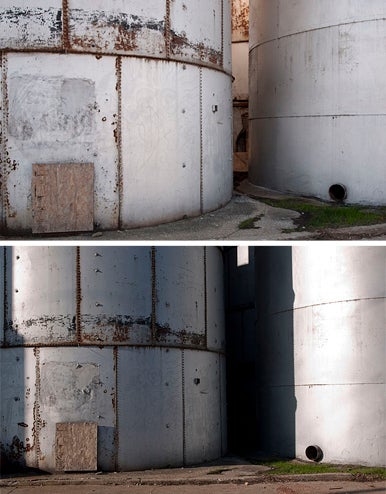 The temperature As the sun sets, it also gets warmer, which is often more attractive. For example, consider these two shots of the same scene. The first one was shot in mid-day and second at sunset.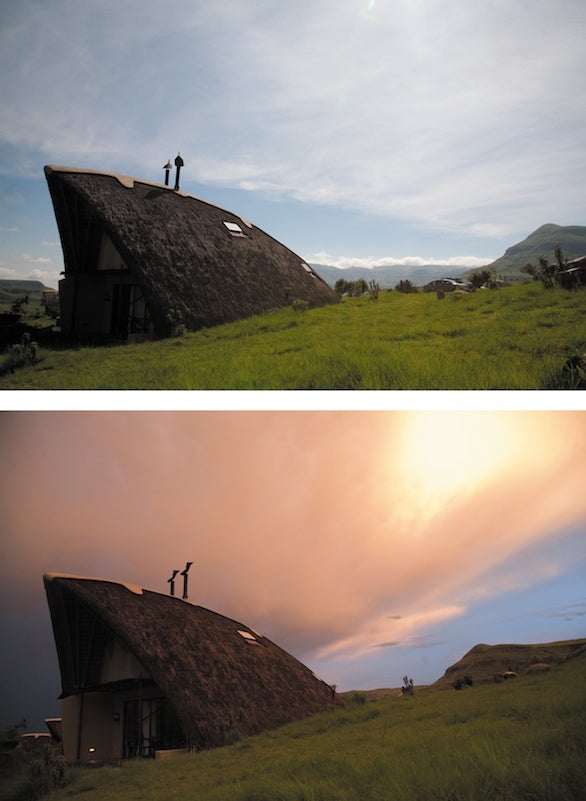 Obviously, the sky is very pink in the second image, but note too that the grass is warmer, as well as the thatch on the building. This warmer light is often far more interesting than the cool, white light of mid-day.
If you don't feel you have much of an aesthetic for light, try this exercise: Put your camera on a tripod and point it at an outdoor scene that receives direct sunlight. Leave the camera there for a whole day, and take a picture with it every hour or two. Look at the results, and notice how specific textures change over the course of the day.
How to take advantage of good light
While you don't have much control over the sun's rays, you can change your own habits to ensure that you're taking advantage of good light whenever possible.
Choose your time Many photographers simply don't go shooting in the middle of the day. Instead, they time their excursions for early morning or late afternoon. As the sun is rising and setting, light changes very quickly, so your window of opportunity will vary depending on the time of year, and your geographic location. Any source of almanac data will help you learn when the sun will be rising and setting. If you have an iPhone, check out Marc Edwards' Darkness app, which tells you when the sun will rise or set, as well as the angle and altitude of the sun, what time the sun is going to peak, and how bright the moon will be.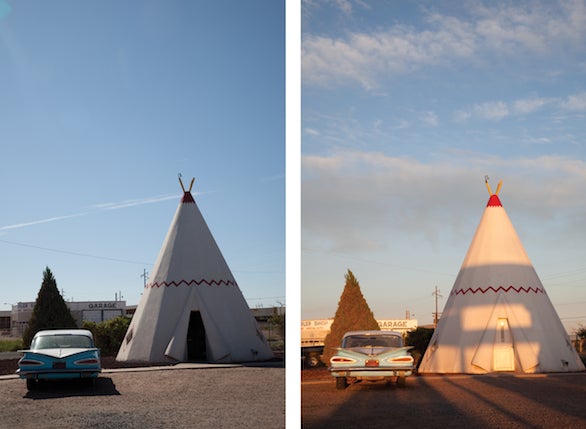 Take advantage of the season Once you start paying attention to light, you'll begin to notice lots of subtle changes and quality from hour to hour and season to season. Many photographers prefer the light in the Fall over any other time of year. Fall light stays contrasty for a long time, because the sun doesn't go up as high. As a result, Fall has a softer, warmer light than any other season. So be sure to pick up your camera and get outdoors. You might also take this into account when planning scenic vacations.
Be patient When you see something that you want to take a picture of, first consider the light. You may find that, even though you have a good subject, and a good composition, the light just isn't what it needs to be to yield a good shot. In these instances, you'll either have to take the shot anyway and settle for less, or wait for the light to improve.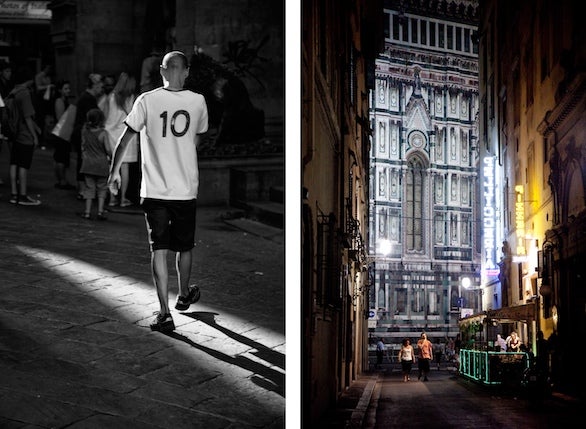 Obviously, for some images waiting isn't possible. But for shots that aren't time sensitive, make a mental note to come backlater in the day or the next day at a better time. Professional photographers will sometimes wait days or weeks for the light to present itself the way they want. Or, they may return months later, with an expectation that a particular landscape will work better at a different time of year. Patience is often as critical a trait as is an aesthetic for light.
At other times, you may have nice light, but not have a good subject. In these two photos, for example, I saw a scene with nice lighting, and then waited until a subject moved into frame to create a good composition.
As your understanding and appreciation of light changes, so will the way you shoot.
Good lighting for portraits
So far, the light I've been describing is the kind that produces a lot of contrast. But keep in mind that this is not the best light for shooting portraits. The last thing most people want is for their skin to have more texture. For portrait light, you want bright, even, diffuse light.
Tall, narrowly-spaced buildings often create nice portrait light, because the light bounces around between them, and becomes very diffuse.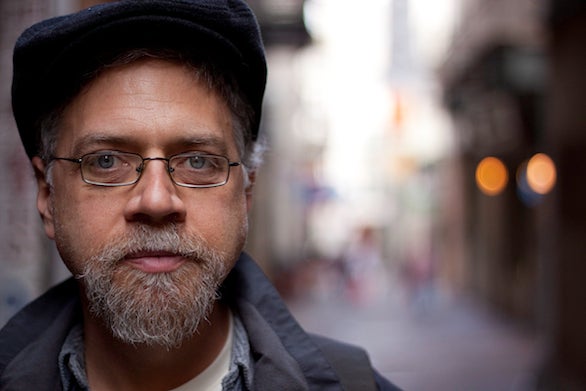 Certain tree and cloud cover also makes for good portrait lighting. The best advice is to keep your eyes open for unexpected gifts—you never know where good lighting will pop up. For example, a few years ago, as the building I live in got painted, the windows were covered with a shroud. The result was a perfect portrait light. When you stumble into these situations, try to find a subject who's amenable to having their picture taken. Good light is not to be wasted!
Studying and appreciating light is a great way to improve your photos. No matter what you like to shoot, aiming for better light will help you recognize more subject matter, and shoot it more compellingly. And best of all, unlike a new lens or camera, light is one photo accessory that doesn't cost anything. That is, until you see the light in Paris or Venice, but that's another story.
[Ben Long lives in San Francisco, where the light is very white, which gives it a bleaching, scalding quality that can be very pretty. He is the author of the recently released Complete Digital Photography, 5th edition.]