Audiobook fans, it may be safe to assume, are not unlike ordinary readers. Bibliophiles and audiophiles are not mutually exclusive or hostile camps. Many book readers enjoy listening to books as they commute, because it's dangerous to read and drive, or it makes multitasking on a bus, train, or plane a little easier.
The trouble with listening to an audiobook, whether on the iPhone or an iPod touch, is that iTunes doesn't give the serious reader/listener many options. You press play, you listen, you pause. Although that arrangement has the virtue of simplicity, it isn't always enough. You quit iTunes, you lose your place, you hunt for the spot where you paused—it's a nightmare. Why can't pick up where you left off? Why can't you mark a particularly interesting passage? Why can't you annotate a segment? You can't write in the margins of an audiobook.
Or can you?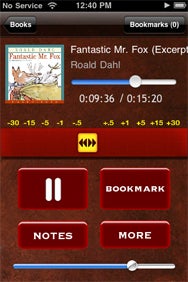 DockMarket's Bookmark app for the iPhone and iPod touch is the reader-friendly audiobook app that booklovers and listeners have been waiting for. It's not a perfect app, by any means, and it's missing some essential features. But the app's foundations are strong enough to give one hope for an audiobook app that evolves into an indispensable utility over time.
The user interface is clean and pleasant to navigate. The screen displays the book title and author, along with a time and scroll bar. In the middle of the screen is a fast-forward and rewind button—about which more below. And, finally, there are four prominent buttons near the bottom of the screen—a large pause button, a bookmark button, "notes" and "more." You can also adjust the book's volume with your thumb at the very bottom of the screen.
The app will launch a recording automatically when you tap on a title. If you need to close the app to take a call, or the app closes suddenly, Bookmark will keep track of where you left off, and display your progress for every book in your library.
Obviously, the ability to bookmark audio sections is the app's main appeal. When you tap the bookmark button, the app will open a new screen—cleverly designed to look like a large blue bookmark—where you can label the bookmark and make notes. Annotating your bookmarks is slightly more laborious than it should be. There is an Edit button you need to tap any time you want to add notes. It would be easier—and in keeping with other applications—to simply tap the blank notes field and have the keypad pop up.
As far as I could tell, there is no limit on the number of bookmarks you can add to a book, which you can browse in a separate screen while listening to the audiobook. You can also e-mail annotated bookmarks—presumably as a reminder or a backup to yourself.
The app's Notes function is different from the "notes" you can add to bookmarks, which is somewhat confusing. To add a note, simply tap the Notes button on the audiobook's screen. A keyboard and notepad will then appear—Bookmarks uses a charming parchment paper theme—and you can type while the audio plays in the background. Unfortunately, the app will not let you create multiple notes for one book. You're limited to what amounts to one very long piece of parchment. Alternating between the "notes" and the bookmark "notes," I couldn't help but think that the former was a developer's afterthought. The idea seems to be that you can make general notes about a book under "notes," and add specific notations to bookmarks. Very strange.
Bookmark's other drawbacks are significant, but correctable. You cannot skip by chapter, as you could with a CD. Of course, you could always bookmark each chapter—but why should the burden be on you? You can also tap the scroll the time-bar near the top of the book screen, but this can be maddeningly imprecise.
But the app will let you skip backward and forward by several increments: 30 seconds, one minute, five minutes, 15 minutes and half-an-hour. For all that, however, what the app really needs is a true fast-forward and rewind that lets you skip five or 10 seconds, rather than half a minute.
Bookmark is buggy. The app will automatically import the audiobook files on your handheld… unless it doesn't. The app appears to suffer from "temporary amnesia" after each synchronization. When you launch Bookmark after syncing, you might see an error message saying no audiobooks could be located. Relaunch the app, and your books will miraculously reappear. And the app crashed on me a couple of times for no apparent reason.
Bottom line: Notwithstanding some annoying limitations and quirks, audiobibliophiles will find much to love about Bookmark.
[Ben Boychuk is a columnist and freelance writer in Rialto, Calif. Feel free to e-mail him.]