Favorites: Apple places commonly used folders (or directories) under the Favorites heading. (In some earlier versions of the Mac OS this was called Places.) If you're running OS X Mountain Lion, under this heading you'll see, by default, All My Files, AirDrop, Applications, Desktop, Documents, Downloads, Movies, Music, and Pictures. Click any of these items except All My Files and AirDrop and you'll be taken to a folder within your user account folder that contains the suggested items—for example, your images within the Pictures folder and song library within the Music folder.

Click All My Files and you can view all your readable files, sorted by file type. This All My Files view includes not only files that you've stored on your Mac but also any files you've saved to iCloud. We'll look at saving files in another column.
AirDrop is a way to easily transfer files between Macs on the same local network.
Devices: Any storage devices that are connected to your Mac will appear under the Devices heading. What you see here will depend, in part, on the Mac you have and the devices plugged into it. It's possible that on your Mac nothing will appear under this heading.
Under the Devices heading you generally see any storage devices that are attached to your Mac. This can be a USB storage drive plugged into your Mac's USB port (one of those USB flash drives you put on your keychain, for example, or some larger hard drive). If you've inserted a CD-ROM or DVD disc into your Mac's media drive, that disc will be listed under Devices. If you've configured another Mac to share its media drive with yours over a network you'll see Remote Disc listed under this heading. Any disk images that you've mounted on your Mac will also appear here. (We'll discuss all these storage options in the future.) In some cases, certain kinds of iPods you've connected to your Mac will be listed here.
The triangle-with-line-under-it icon that appears next to any removable media (that USB flash drive, for instance) is the Eject icon. Click it and that media is disconnected from your Mac. In the case of a CD or DVD, it's physically ejected from the Mac. For drives like external hard drives and USB key drives, clicking this icon and then seeing the name disappear from the Devices list means it's safe to physically disconnect the device from your Mac.
Shared: If your Mac is attached to a local Wi-Fi or wired network, it's possible that you'll also see a Shared heading in the sidebar. Any items here are other computers (even Windows PCs) or some variety of network-attached device.
What you don't see
There are a couple of other things in the window that either you won't or may not see. The first is scroll bars. Suppose that you have a window that contains hundreds of items. How are you supposed to access those items if only a handful of them appear? That's the point of scroll bars.
At one time the Mac OS had scroll bars that were always visible—they appeared as blue gumdrop-looking things on the side and bottom of a window if that window had more items that could be displayed in the window. Recently, Apple has chosen to get rid of those always-visible scroll bars.
By default, you see those bars only when you scroll within the window with your trackpad or the scroll wheel on your mouse. Do this and you see gray bars on the side (and on the bottom if the contents is wider than the width of the window). Those bars give a proportional representation of how far you'll need to scroll to get to the top, bottom, or right side of the window. If you have 50 items in a window, for example, and can see 30 of them, the gray part of the scroll bar will be quite long, indicating you can see most of its content. If, instead, that window has 1,000 items, the gray bit will be quite small, telling you that you have a long way to scroll.
The other thing you don't see is a way to resize the window. Again, in the old days, the bottom-right corner had a small square used for this purpose. Click and drag that square and the window changed shape, collapsing or stretching in the direction you moved the cursor. Today, that square is gone.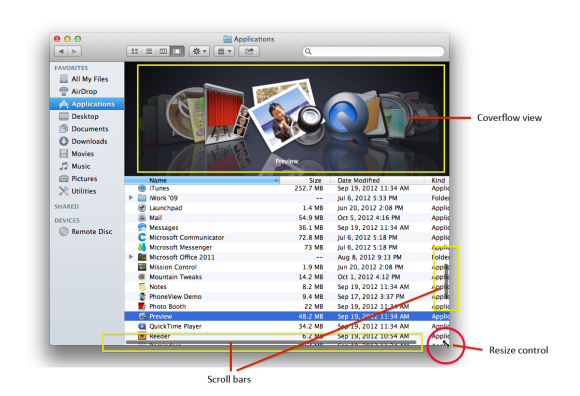 To drag-resize a window you now place your cursor at any edge or corner. When you do, your cursor will turn into a two-headed arrow icon, indicating that when you click and drag, the window will expand or collapse in this direction. So, place your cursor at the right edge of the window, click, and drag the window to the right to make it wider. Drag to the left and it becomes narrower. When you drag on a corner you find that you can reshape the window both horizontally and vertically, making it the most flexible option.