At Apple's unveiling of the iPhone 3GS in June 2009, Apple's senior VP of worldwide product marketing, Phil Schiller, stated in no uncertain terms that the faster iPhone would be rolled out through the rest of the world by August. The month came and went—heck, we're nearing the end of November—and the iPhone 3GS ( ) is still nowhere to be seen in countries such as Ecuador, Honduras, India, Indonesia, Jamaica, Puerto Rico, Russia, Saudi Arabia, Thailand, and Venezuela.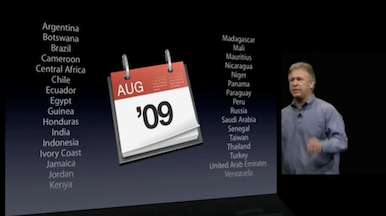 For someone like me, a resident of India who follows Apple and its activities in this country closely, it isn't surprising that Apple doesn't take the Indian market very seriously when it comes to the iPhone. It hasn't exactly been a hit in the Indian market, with unofficial estimates pegging the total sales figure in the region at 55,000 units. Since Apple does not disclose the sales of any of its products on a country-by-country basis, it's impossible to know what the exact sales figure is, but the scarcity of iPhones even in New Delhi—one of the most affluent of Indian cities—is telling enough.
However, that's no excuse for delaying the launch of one of Apple's flagship products (some would go so far as to call it the flagship product) by more than three months without any explanation whatsoever. Apple hasn't bothered to so much as mention the delay or offer a new ETA.
I know of a few people who've already bought other phones after tiring of waiting for the iPhone 3GS. Meanwhile, those of us who won't be satisfied with anything less than a genuine iPhone have been waiting impatiently with our previous generation models until Apple finally delivers on its iPhone 3GS promise.
I'm especially frustrated because my first-generation iPhone's screen broke a while ago, and I've been trying to make do with it ever since. The top half of the display works fine as a screen, but it's no longer receptive to touch input, which means that I spend a healthy amount of time rotating the device and trying to get to those elements of the screen that aren't responsive in portrait mode.
I find myself stuck between a rock and a hard place: I neither want to keep using a broken iPhone for what could end up being several more months, nor do I want to purchase an iPhone 3G. (Would you, if you knew that the iPhone 3GS was scheduled to launch in your country three months ago?)
So, on behalf of the citizens of India and of the other countries still waiting, here's an earnest request to Apple: step up and publicly acknowledge the delay, let us know the reasons behind it, and then tell us when we can expect to lay our hands on the iPhone 3GS. Deliver the iPhone 3GS to these countries, as promised, before everyone decides to just move on.