Roku will announce on Monday a major update to the software powering the company's Roku Player models. As part of that update, the company will also introduce the new Roku Channel Store.
Last month, Roku expanded the company's streaming-media player line to three models: the $80 Roku SD, the $100 Roku HD (formerly the Roku Player, originally called the Roku Netflix Player), and the $130 Roku HD-XR. All three models, which work via a wireless or wired Internet connection, inherit the functionality of the original Roku model: the capability to stream to your TV video via Netflix's Watch Instantly service, Amazon's Video On Demand service, and Major League Baseball's MLB.TV. The SD model offers standard-definition video and analog audio; the two HD models provide high-definition video and optical-digital audio, with the HD-XR adding 802.11n wireless and a mysterious USB port "for future use."
With Monday's announcement, Roku has updated the Player software with a new Channel Store, including ten initial channels, that lets users easily add additional content sources. These channels, focusing on independent and user-created media, are blip.tv video publishing, Facebook Photos, Flickr, FrameChannel photo sharing and viewing, the Mediafly podcast aggregator, MobileTribe, Motionbox video sharing, Pandora Internet radio, Revision3 Internet television, and TWiT.TV.
All channels are free to add and use, although you need to set up a Roku account on the Roku Website, and then link that account with your player, in order to take advantage of the Channel Store. (Existing Roku users can continue to use their Netflix, Amazon, and MLB accounts, but will need to create a Roku account—if they don't already have one—to use the Store.) Some services, such as Motionbox, have multiple levels of membership; a paid membership may offer more features.
Just as Roku has regularly updated the Player software with new features, the company plans to add new channels via software updates. A Roku spokesperson told Macworld that other developers are already working on channels, which will automatically appear in the Channel Store when available. The company says the Channel Store is an open platform—with a free development kit—that will let companies provide content directly to consumers, although much like Apple with the iPhone App Store, Roku will have final say on which channels are accepted. (For-fee channels may be an option, as well.)
While current channels focus on providing access to existing online services, Roku said that the Channel Store also offers other opportunities. For example, businesses and educational institutions could use channels to distribute classes and training videos. Roku will include options to restrict access to channels, or even to make a channel visible only to particular Roku players (based on each player's unique hardware identifier).
The new software will eventually be pre-installed on all new Roku players. It will be a free update, rolled out over the next two weeks via the player's automatic software-update feature, for all existing customers.
Hands on
We've been testing the new software and Channel Store, and using the new feature is very similar to using one of the existing services (Amazon, Netflix, and MLB.TV).
If you're setting up a new player, you first complete a quick network-setup procedure to connect the player to the Internet. You're then provided with a code; you enter this code (on your computer) in your account settings on the Roku Website to link your player with your account. (If you have an Amazon Video On Demand or Netflix account, you complete similar procedures to link the player to those accounts.)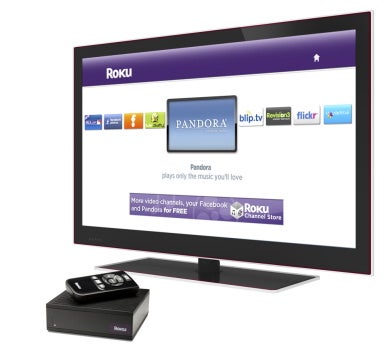 If you haven't yet updated to the latest software, you'll be prompted to do so; this process was simple and took only a few minutes for me.
After updating, the main menu screen includes a new icon for the Channel Store. Selecting this menu shows a menu bar with self-explanatory options for My Channels, What's New, Most Popular, Top Rated, and All. (Because the Channel Store itself is new, all but the My Channels option contain all the available channels: Amazon, Netflix, MLB.TV, and the ten new channels.) After choosing an option, you use the player's remote to scroll—left and right—through large, easy-to-read channel icons.
Each channel's main screen in the Store provides a description of the channel, a rating (the average rating for the channel among other Roku users who've added that channel), and the option to add the channel.
What happens when you add a channel depends on the channel. For example, after adding Pandora and switching to it, you're given an activation code. You visit (again, on your computer) Pandora's Roku page, enter the code, and then log in to your Pandora account (or create one if you don't have one). A few seconds later, the Roku player's screen notifies you that the player has been successfully linked to Pandora. Assuming you were already a Pandora user, all your personal Pandora "stations" are available from the Roku player, as well as options for creating a new station or listening to a Quick Mix.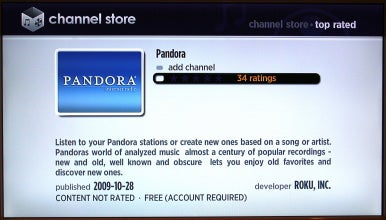 Other channels provide options for browsing media hosted by that channel. For example, Revision3's menu lets you scroll through the 18 current Revision3 shows; for each show, you can view a description of each episode before deciding whether or not to watch it. The Flickr channel provides options for viewing a random stream of photos, photos with the day's top tags, or your own photostream, sets, or groups.
Although it can be a bit of a hassle to have to link to or configure some of the services via your computer, the alternative would be to enter account information and other settings using the Roku's remote. Although this remote is vastly better than Apple's minimalist model—the Roku remote provides much more functionality while still being simple and understandable, is more comfortable, and provides better tactile response—navigating an onscreen keypad, one letter at a time, isn't something you want to do very often. (The authorization process for the Flickr channel, for example, requires you to "type" a 9-digit code on the Roku player's onscreen keypad; it's a hassle.)
If you've got an HD-capable Roku player and an HDTV, the Channel Store's interface, as well as a good amount of content offered via the Channel Store, are in HD; however, the resolution and overall quality varies by channel. And as with most streaming content, there's a bit of a delay whenever you choose a new source or new media; however, once a video or photo slideshow started playing, I experienced very few delays or stutters.
What's missing?
While the new software increases the appeal of Roku's players—and makes those who bought the original model back in early 2008 feel ever better about their purchase as it continues to gain new features—the update doesn't include perhaps the two most-requested features. You still can't browse Netflix's Watch Instantly library from the Roku player; you must add movies to your Instant Queue from the Netflix Website. And you still can't stream local media—for example, videos on your Mac or a network drive—to your TV through your player. We're keeping our fingers crossed that we'll eventually see these features; Roku would be well-served to provide them before Apple decides to make the Apple TV more functional.